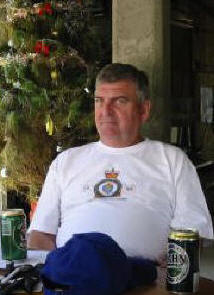 From your many letters, the resurrection of the RAM was accepted very well - thanks for your support and your best wishes. However, it seems that the RAM will remain a web based magazine, for the immediate future at any rate. We are unable to find a printer that can print as efficiently and as 'cost effectively' as our previous printer - so until we do, the RAM stays here.
But!!! we still need stuff from you to help fill these pages, we need photos, stories, gossip, made up stuff, anything and everything, so get those fingers to the keyboard and send it in. And just because it's an Ex-RAAF Radschool Magazine doesn't mean we don't want to hear from you. If you were at Wagga, tell us what it was like, tell us about the contest with the army blokes to get the local girls, tell us about the Wagga pubs, the clubs, the dust, the heat, the flies (yuk) perhaps you are ex-Army and drove tanks, why not tell us what that was like, the noise, the smell, the thrill, how reliable were they, what were they like to work on etc - whatever, we'd love to hear (g'day Gary), perhaps you were ex-Navy and went all over the place in those big old grey boats - tell us about that. Everyone has a story and there's heaps of people who want to hear it, so - let's have it......
Until we get stuff from you, we're using a bit of license and pinching stuff from here and there - so if you've seen it before, we apologise. If you enjoy reading the RAM - please tell others about it.
We still don't have our new e-membership application ready, that will come soon. In the meantime, if you get the notification via email, and you don't want to get it, reply to the email with REMOVE in the subject line.
And don't forget, if you know of someone who is a little off colour, let us know so we can let others know and we can wish them a speedy recovery. Until next edition, in Feb...
Merry Christmas to everyone