Alf Smith
Alf was born in Sydney in February 1942, which he says was "just after the bombing of Darwin and shortly before the midget submarine attack in Sydney Harbour" - he reckons he's "not quite sure whether that means anything, but itís a nice piece of trivia anyway". He grew up near Parramatta and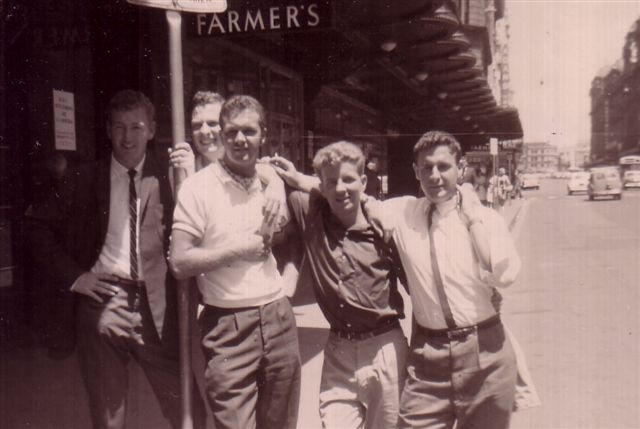 began No 13 Radio Apprentice Course in 1959 and was retreaded to 14 Course early in 1961, a result of his being a perfectly healthy red blooded fit young bloke of 18, more interested in girls and rugby that maths II and chemistry. He reckons this was a good thing anyway as 14 course became Air Techs.
Pictured left (L-R) are Alf Smith, David Hains, Bill Beard, Bob Hambling and Alan Armstrong. A bunch of cool dudes, strutting the streets of Sydney around 1960.
He now lives at Forest Lake, a suburb of Brisbane, with wife Sandra, has two grown up children, one of whom lives in Sydney and the other in NZ and he's granddad to three lovely grandkids. He reckons he'll think about retiring one day but not just yet. His interests include supporting the Reds and the Wallabies and playing golf. He reckons his main claim to fame was to have played both Rugby League and cricket on the SCG.
His first posting after graduation from Appyland was to 86 Wing at Richmond where he worked on both the old A model Hercs and the E's and did E services on Goonies and Winjeels. (E Servs - they are a thing of the past, Ultra Tune and the NRMA do them now - tb) He worked on the APN-59 weather radar, APX-6 (IFF) and ARN-7 and ARN-6 ADFs. In 1965 he was posted to 78 Wing in Butterworth to work on the Sabres. The old Sabre was pretty lean when it came to the electronics department and all he to play with was the APG-56 gun sight and ARC-34 UHF set. But the Sabre squadron was good for trips away, and with 77 Sqn he had jollies to the Malaysian Island of Labuan and to Borneo and then it was off to Ubon in Thailand with 79 Sqn. In 1967 he was posted from Butterworth to Phan Rang in Vietnam with 2 Sqn to work on the Canberras where, once again, he had the old ARC-34 with which to play. He also got to fiddle with that great big heavy thing down the back end of the Canberras - the Green Satin. He returned to Oz in April 1968, and was posted to Richmond's old men's club - 2AD.
He met and married Sandra in 1969 and was immediately posted back to Butterworth with the Sabre Advisory Flight Ė that was an experience he reckons, teaching the mysteries of ARC-34 and APG-56 to Malaysians! What followed was a short stint on Cyrano at 478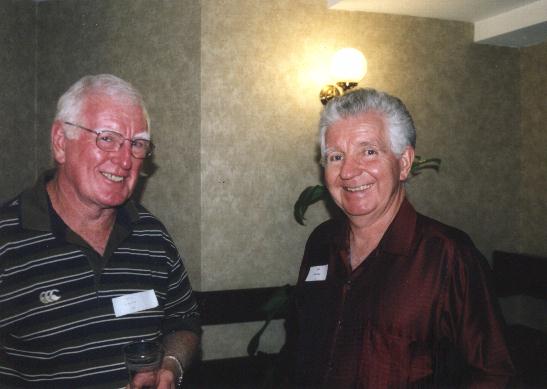 Radio before he returned to Oz in Jan 1972, where he was posted to 35 Sqn which had just been returned to Richmond from Vung Tau. He stayed with the Caribous for a while and while there enjoyed two 6 week deployments to Sumatra with the Army mapping surveys - and as he said, "had an absolute ball. From there it was back to Richmond and 2AD as a Flight Sergeant in 1976 where he learned about running a section and managing people and from where he made the journey to see Madam WRAAF and was discharged in 1980.
Alf with Bob Hambling (right) at a 14 Appy reunion. 2004
In civvy life, he has mostly worked with Defence oriented electronics' companies in project management and later in quality assurance fields Ė companies such as Racal, Westinghouse Electric and Rockwell Systems (now Boeing Australia). Some of the projects he has worked on include RECAP (an upgrade of 2 & 3CRU ground defence systems) and TADS (the new Tactical Air Defence System for 114MCRU), Collins submarine combat system and The Advanced Air Traffic Control System (TAAATS). He Also had a couple of years as an ISO9000 quality auditor.
In 1999 he moved to Brisbane from Melbourne and began work as a Public Servant with Defence at RAAF Amberley where he was involved with performance monitoring of the F-111 deeper maintenance contractors. Still at Amberley, he is now the local Commonwealth QA representative for the modification of four Boeing 737 BBJ aircraft by Boeing Aust to become the Wedgetail airborne early warning and control aircraft - and, apart from travelling on the infamous Ipswich highway twice every day, he's loving it.
Retire??? - Why would you want to?????