Thursday, 09. September 2010
Desserts
Bread and butter custard
6 egg yolks

175g castor sugar

275ml cream

250ml milk

1 vanilla pod

18 slices white bread - no crusts

50g salted butter – soft

20g sultanas

20g raisins
Place yolks and sugar into a large bowl and whisk until pale and frothy. Place cream, milk and vanilla into a heavy based pot and bring to a simmer. Pour simmered milk mixture onto the eggs and sugar whisking continuously. Pass this mixture through a fine strainer. Butter the slices of bread, place 6 slices in the bottom of a an oven proof dish 14cm x 7cm, sprinkling ½ the raisins and sultanas, then 6 more slices of buttered bread, the rest of the fruit, then top with the last of the bread. Pour over the milk/eggs mixture. Allow to sit for 20 – 30 minutes. Then cook in a water bath for 30 – 40 minutes in a 160C oven until the custard is just set. Sprinkle with icing sugar and caramelize under a hot grill. 6
Bread and Butter Pudding (2)
| | |
| --- | --- |
| 7-9 slices bread | 100 gram raisins |
| 100 g soft brown sugar | 3 eggs |
| 500 g milk | 2 apples, cored and sliced |
| 5 tablespoons orange marmalade | Cinnamon |
| Nutmeg | Butter |
Preheat oven to 180°C and lightly grease a baking dish with butter. Place apples and half the sugar into a bowl, coat apples with sugar and pour into prepared dish. Spread butter and jam on bread. Use half the bread to cover the apples. Sprinkle half the raisins and 2 tablespoons of sugar over the bread. Beat eggs and milk together and pour half over the bread in the dish. Press remaining raisins into the leftover bread and place into the dish. Pour the remaining egg mixture over the top and sprinkle with cinnamon, nutmeg and remaining sugar.
Let rest for 30 minutes. Bake for 45 minutes to 1 hour until well risen and golden brown. Serve hot or cold. You can use mixed fruit instead of raisins, and any type of jam is okay. 6
Boysenberry pavlova roll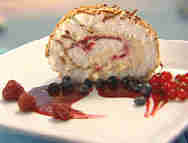 Meringue Topping
10 eggwhites, cold

¼ cup muesli

300g caster sugar

¼ cup All Bran

30g cornflour

¼ cup chopped pistachios

pinch of salt
Filling
250g frozen boysenberries, thawed
100g sugar
2 egg yolks
50g caster sugar
500g fresh cream, whipped
Combine ¾ of the boysenberries with the sugar in a small saucepan and bring to the boil. Simmer briefly until the sugar dissolves and crush the berries coarsely. You can strain this mixture (coulis) if you wish; refrigerate until cold.
For the pavlova roll, combine eggwhite, sugar, cornflour and salt in a large clean bowl and whip to a fluffy meringue (stiff peaks). Pour onto a baking tray lined with baking paper and spread it out evenly using an angled palette knife. Scatter muesli, All Bran and pistachios evenly over the surface of the meringue and bake at 220°C for 5-8 minutes or until meringue is just set; cool. Whisk egg yolks and sugar together in a large bowl until sugar dissolves and mixture is foamy. (To ensure the egg-whites reach maximum volume, make sure your mixing bowl and whisk are clean and free of grease) Fold in the whipped cream until smooth and creamy.
Turn the meringue, cereal side down, onto a large piece of baking paper. Peel the baking paper off the top of the meringue and spread the cream mixture (parfait) evenly over the top. Coarsely crush the remaining boysenberries with the coulis in a pestle and mortar. Spread evenly over the parfait.
Using the baking paper as a guide, roll the meringue up from one of the short sides and place on baking tray before freezing for at least 3 hours. To serve, remove from freezer approximately 20 minutes before you wish to serve it. Slice thickly and serve with any remaining coulis and extra fresh berries, if desired.
Caramel Dumplings.
Dumplings Sauce
½ cup white sugar

1 cup brown sugar

2 tablespoons butter

2 tablespoons butter

½ cup milk

1½ cups water

1 cup flour

1 teaspoon baking powder

pinch of salt
Sauce: Combine brown sugar and butter in a small pan, cook over medium heat, stirring frequently until sugar is caramelized. Slowly add the water, stirring constantly, boil for a few minutes, pour into a small casserole dish.
Dumplings: Cream the butte and sugar together, add the milk and remaining ingredients, mix well. Drop spoonfuls into the caramel sauce. Bake in 180C oven for 25—30 minutes. Serve warm.
Chocolate & whiskey soufflé.
| | |
| --- | --- |
| ½ litre of milk | ½ vanilla pod split |
| 6 egg yolks | 30g plain flour |
| 125g sugar | 100g of chocolate |
| 4 egg whites | 2 tablespoons sugar |
| soft butter | 2 tablespoons whiskey |
Brush the soufflé moulds heavily with soft butter and coat with sugar. Add about a tsp of whiskey to each mould. Boil the milk with the vanilla pod. Whisk the egg yolks with the 125g of sugar and the flour, add the boiled milk onto the egg, sugar and flour mix. Return to the pan and whisk to the boil. Remove from the heat and pass through a fine sieve. Whisk in the chopped chocolate and leave to cool, add the egg whites with 2 tablespoons sugar to stiff peaks. Use 1 large tbsp of the chocolate mix per soufflé and fold in the beaten egg whites. Pour the mix into the soufflé moulds and smooth over the top with a knife and run your thumb nail along the rim to prevent it from sticking. Place into a hot oven (210c) for 5 minutes till well risen
Serve with some cream or ice cream 2
Chocolate Cake
2 ¼ cups self raising flour

1/3 cup cocoa

1 ½ tablespoons cinnamon

1 tablespoon ground ginger

1 tsp bicarbonate of soda

1 ⅓ cups caster sugar

420g can condensed tomato soup

2 eggs, lightly beaten

125g butter, melted

¼ cup water

icing sugar, for dusting

double cream, to serve

raspberry coulis, to serve
Preheat oven to 180ºC. Sift flour, cocoa, cinnamon, ginger and bicarbonate soda into a large bowl. Stir in sugar. Add the soup, eggs, butter and water. Mix to combine. Using electric beaters, beat on high for 3 minutes. Pour into a greased and lined 23cm round cake pan. Bake for 45-50 minutes, or until a skewer inserted into the centre of the cake comes out clean. Leave in cake pan for 10 minutes before turning out onto a wire rack to cool completely. Dust with icing sugar and serve with cream and coulis (if desired). (Raspberry Coulis is made by pureeing 120g raspberries, 75g icing sugar and 2 tsp lime juice)
Coconut banana.
1 banana peeled and cut into 4

1 vanilla pod split, or vanilla essence

3 tablespoons dark rum

3 tablespoons butter

6 tablespoons sugar

2 tablespoons coconut shavings

2 tablespoons coconut milk

Ice cream to serve

1 piece of foil approx 1 meter long folded over to make double thickness
Sprinkle the sugar into a hot pan and stir until it starts to form a caramel. Once the caramel is golden add the rum, coconut milk and the vanilla pod seeds or two drops of essence. Whisk in the butter to form a toffee. Place the banana on the foil and cover with the toffee rum sauce and add the vanilla pods or a further 2-3 drops vanilla essence on top. Fold over the foil to form a bag, fold the ends 3 times to make sure it is air tight. Place on a hot baking tray and cook in a 200C oven for 5-6 minutes. The bag will puff up and the banana will steam in the toffee sauce.
Open the bag at the table to release the fantastic aroma, serve piping hot with some ice cream. Enjoy! 1
Golden Syrup Dumplings
Dumplings
1 cup self-raising flour

1 egg

1 tablespoon butter

1 tablespoon milk

3 dates, chopped finely (opt)
Syrup
| | |
| --- | --- |
| 1 cup water | 1/2 cup sugar |
| 2 tablespoons Golden syrup | 1 tablespoon butter |
Sift flour into a bowl. and rub in the butter until it is like breadcrumbs. Beat the egg and milk together, and carefully mix with the flour (and the dates) to make a soft dough. Do not over-mix as this will make the dumplings tough. Place the water, sugar, butter and golden syrup into a large saucepan and bring to the boil. Drop in teaspoonfuls of the dough, cover with a lid and simmer over a moderate heat for about 12 minutes or so until cooked. Remove from the heat and serve with warm runny custard or ice-cream.
Hokey Pokey Ice Cream.
1 litre vanilla ice cream

white sugar

golden syrup

bi-carb soda

cooking oil spray
Allow the ice cream to melt until it is soft. Add 5 tablespoons sugar and 3½ table spoons golden syrup to a saucepan, heat slowly until all the sugar is dissolved, stirring all the time. Remove from heat, add 1 teaspoon bi-carb soda, stir over low heat until mixture froths. Spray the inside of a baking tray with oil, remove the sugar mix from heat and pour into the tray and allow to cool. When cooled and set, remove from tray, break up into small pieces. Remove ice cream from container into a large bowl, mix in sugar mix, return to container and place back in the freezer for 1 hour.
Lemon pie.
1 cup coconut

½ cup flour

1¼ cups caster sugar

1 tablespoon finely grated lemon rind

4 eggs

⅓ cup fresh lemon juice

1½ cups milk

40g butter, melted

1 teaspoon vanilla extract
Place the coconut, flour, sugar and lemon rind in a large bowl. Add eggs, lemon juice, milk, butter and vanilla and stir until well combined. Pour the mixture into a lightly greased 4 cup capacity baking dish and bake in a 180°C oven for 40 minutes or until the top is golden. Allow to cool slightly before serving.
Pancakes with Peaches.
| | |
| --- | --- |
| 415g can sliced peaches | 1½ cups self raising flour |
| 1 teaspoon mixed spice | ¼ cup sugar |
| 1 egg, lightly beaten | 1 cup buttermilk |
| 50g butter | 2-3 tablespoons honey or maple syrup |
Drain the peaches, reserving the juice. Sift the flour and mixed spice into a bowl and make a well in the centre. Beat the juice, sugar, egg and buttermilk together. Pour into the centre and stir with a wooden spoon to make a smooth batter. Heat the butter in a frying pan and cook until it turns nut brown. Then carefully stir this into the batter. (This will give the pancakes a lovely flavour). Pour ¼ cupfuls of batter into a heated non-stick frying pan and cook over a moderate heat until the bubbles appear on the surface, then flip and cook the other side. Once all the pancakes are cooked, add the peach slices to the pan with the honey or maple syrup. Heat gently. Serve the warm pancakes topped with the hot peaches. Makes 8 thick pancakes.
Peach and Raspberry Cheesecake
250g wheaten style biscuits, crushed

80g butter, melted

1 cup caster sugar

500g cream cheese, cubed and softened

1 cup cream

3 eggs

1 tablespoon cornflour

1 teaspoon finely grated lemon rind

½ cup raspberries fresh or frozen

415g can peach slices, drained

1 tablespoon brown sugar
Preheat oven to 160ºC. Combine biscuit crumbs and butter and press into the base of a lined 22cm springform pan. Bake for 10 minutes. Using an electric mixer, beat cream cheese and sugar until sugar is well incorporated. Add cream and eggs until well combined. Fold through cornflour. Pour mixture over the biscuit base and press the peaches and raspberries into the top. Sprinkle with brown sugar and bake for 2 hours. Turn the oven off, and leave the cheesecake to cool in the oven.
Queen pudding
| | |
| --- | --- |
| 2 tablespoons jam | Half cup soft breadcrumbs |
| 2 eggs | 2 cups milk |
| ½cup caster sugar | 3 tablespoons fresh or canned fruit |
Warm the milk to about blood temperature (not too hot to stick your finger in). Separate and keep the white of one egg and beat with about a third of the sugar, then add the warm milk, stirring all the time. Place breadcrumbs in an oven baking bowl and add the custard mix. Bake this mixture in the oven – use a 'bain-marie' technique where you place the dish holding the custard into a shallow dish containing water. Oven temperature of 160C for 45-50 minutes until set. Remove from oven and spread jam on surface, plus the fruit.
Whip the white of the remaining egg until stiff, then fold in remaining sugar. Pile this mixture on top of the jam and fruit. Bake for a further 15 minutes in a moderate oven (175-190C) until egg whites are browned. Serve hot with fresh cream or cold, fresh milk.
Rhubarb and pear sponge
Rhubarb
| | |
| --- | --- |
| 800g pears, peeled and 2 cm cubes | 500g bunch rhubarb, finely chopped |
| ½ cup sugar | 4 cloves |
Sponge
3 eggs

½ cup caster sugar

¼ cup self-raising flour

¼ cup plain flour

¼ cup custard powder
Pre-heat oven at 180°C (160°C fan-forced). Combine pears, rhubarb and sugar in a large saucepan. Bring to boil, boil gently, uncovered for 10 minutes, stirring occasionally until mixture has thickened and pear is just tender. Spread mixture into a 22cm pie dish.
To make sponge topping beat eggs in a large bowl with an electric mixer until light and fluffy. Gradually add the sugar, beating until dissolved between each addition (beat for at least 7 minutes). Gently fold in sifted and combined flour and custard powder. Spread over hot rhubarb mixture and cook for about 1 hour or until golden brown.
Steamed Pudding.
2 tablespoons butter or margarine

2 tablespoons sugar

1 cup plain flour

1 cup mixed fruit

1 cup milk

1 teaspoon baking soda

1 teaspoon mixed spice
Rub butter into flour, add sugar, fruit and spice. Dissolve the baking soda in the milk and mix into the mixture. Steam for 2 hours.
Sticky date Pudding.
Pudding Sauce
180 gram pitted and chopped dates

200 gram brown sugar

60 gram butter

130 gram butter

2 eggs

½ cup thickened cream

½ teaspoon vanilla essence

½ teaspoon vanilla essence

1 teaspoon bicarbonate soda

170 gram caster sugar

170 gram self-raising flour (sifted)
Pudding: Add dates to 300 ml of water in a pan, bring to the boil, add bicarbonate soda and stir well—simmer 2 minutes, remove from heat and set aside. Beat the butter and sugar until creamy and add vanilla essence and eggs one at a time. Gently stir in flour and date mixture. Stir well and pour into buttered pudding cases. Cook for 30-40 minutes at 160C.
Sauce: Bring butter and sugar to the boil, add cream and vanilla essence and simmer for 5 minutes. Pour sauce over pudding when cooked.
Summer Fruits.
3 peaches

1 punnet of mulberries - stalks removed

1 punnet of strawberries

1 punnet of blueberries

4 mint sprigs

20 small mint leaves

20 small basil leaves

3 tbsp of castor sugar

1 vanilla pod split – seed scraped out
Remove stalks from strawberries, cut them in half. Cut an X in the top and bottom of each peach, blanche in boiling water for 30 seconds, remove, place in cold water, peel off skins. Puree half the peaches with the castor sugar and vanilla seeds. Chop up the rest of the peaches. Mix them with all the berries, basil leaves, mint leaves and mix through the peach puree. Divide between the champagne glasses. Top up with a little champagne, add a spoonful of ice cream or whipped cream and garnish with a mint sprig. 3
Tirimasu à la Lara
3 eggs separated

2½ cups of warm strong black coffee

splash of Kahlua

2 packets of biscotti (savoiardi biscuits)

1 cup castor sugar

250gms marscapone cheese

cocoa or chocolate shavings
Beat egg yolks with sugar and add Kahlua. Beat egg whites until stiff, add to egg yolks along with the cheese and mix well. Dunk the biscuits in the coffee quickly and place one layer on the bottom of a medium dish. Add a thin layer of the cheese mixture on top of the biscuits and continue layering until the dish is full. Top off with the rest of the cheese and cocoa or chocolate. Cover and refrigerate for a couple of hours, serve cold as a dessert.
Vanilla rice pudding.
| | |
| --- | --- |
| ½ cup short grain (Arborio) rice | 4½ cups skim milk |
| ½ cup castor sugar | 1 lemon |
| 2 teaspoons cornflour | ½ teaspoon vanilla extract |
| 2 egg yolks | 500gram berries (eg: strawberries) |
Wash and dry the lemon, use a potato peeler to peel long strips of rind from the lemon, taking care not to include any of the bitter pith. Bring a large saucepan of water to the boil, add the rice and cook for 5 minutes, remove, drain and return rice to the hot saucepan. Add 4 cups milk, sugar and the lemon rind to the saucepan, stir to mix well, bring to the boil and let simmer for about 40 minutes or until rice has absorbed all the milk. Blend the cornflour with about 1 tablespoon milk then stir into the rice. Add the egg yolks, remaining milk and the vanilla, mix well, cook for further 2-3 minutes, remove from heat, discard lemon rind. Serve with berries. 4