Another popular pastime was annoying rabbits. A "right of access" chit was obtained from the Gunnies, and along with a shotgun, plus several boxes of shells, we would drive after dark, to the Dutson Downs Bombing range and spotlight for the extremely smart rabbits, which inhabited the place. The bunnies there had been bombed, strafed and even had aircraft crash on them, so they were very difficult to shoot and I remember a number of times coming home having fired off 2 boxes of shells and not hitting a thing! (Now, one wonders was it the clever bunnies or the crook shooter?? - tb)
I used to do fair bit of trout fishing in the mountain streams near Sale, and the Macalister River was a very good fishing river with beautiful scenery as a bonus. I found that there were a lot of trout in the very small tributaries to the river and I used to do some fairly hairy 4-wheel driving to get to some of the good places. One trip, with Lindly Coulter, an electrician, I managed to get hopelessly stuck on a slippery snow covered slope near the top of Mt Useless, a 4,500ft high hill north of Heyfield.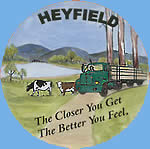 We made 5 peanut butter sandwiches each and proceeded to walk, and walk, and walk eventually more than 30 km before a passing car took us the remaining 5 km into Licola where we were given accommodation til the morning and a friend rescued us. The land Rover languished in the hills for 10 days before I was able to mount a rescue mission.
We had a civilian cleaner in the radio section. His name was Paolo Rizza and even though he had lived in Australia for 20 years, he had a very thick accent and could not read or write very well. One of Paolo's duties was to take smoko orders to the ASCO canteen outstation near the flight line and bring the pies, sandwiches etc. back to the section in time for morning tea. Due to his poor grasp of writing Paolo would hand his note pad to people to write their order upon it while they were at their work benches, and some humorous soul, realising that Paolo couldn't read, wrote "Ruth please give me a f..." when the unsuspecting Sicilian handed his notepad to the canteen lady she read it and leaned over the counter and gave Paolo a resounding slap on his face much to Paolo's astonishment!!
At smoko time there was a concerted rush for the lunchroom, by the dedicated card players, in order to get a seat at the card table.
After Otto was posted and Stan Prosser was promoted to W. OFF VC, it was noticed that if Stan got a seat at the card table, smoko was a lot longer. From then on it was unobtrusively organised for Stan to get a seat at the card table, and we scored a 20-minute break!
It was while I was at Sale that I discovered the delights of home brewing, or more correctly single men's quarters brewing. In those days when there was no such thing as ready made cans of brew mix, you had to laboriously boil malt and sugar with lemon juice and then add the hops by way of using a pillow case with the hop flowers inside, dipped into the boiling brew.
All this was done on a gas stove on my bedside table. I wonder what the local laundry thought of the brown, smelly pillowcases! The end result of my home brewing was 300 bottles of beer cleverly hidden behind my hanging clothes in my wardrobe, secure from the prying eyes of inspecting officers, and panic night piss ups to try and knock the quantity down.
Some of the names I can remember from my Sale days:
Jim Millican George Vicino
Graham Vertigan John Butler
Pat Godman Craig Coombs
Bill Bastion Bob Sturgeon
John Clelland John Jolley
Otto Fahey Chris Bell
Stan Prosser Bob Tyler
Peter Meneer Wayne Hall
Ian Schutze Brian Deverson
Andy Speelmeyer Bob Campbell
John Parker Jeff Cuff
Don McDonald Pete Aaron
Tim West Al Chiesa
Al Mashette Paul Ninnes
Civilian Techs:
Ken (Blue) Alford Dave Bentley
Mark Hope Dennis??? Can't Remember)
And last but not least, WALLY FAULKNER. He seemed to be chasing me, he was at Laverton as a stroppy SP and when I was posted to Amberley he turned up there as a WOD, then when I was posted to Sale he followed me there!
Does anyone know what happened to him?