Global warming!
We thought we were finished with all this but it's a topic about which a lot of people have strong ideas. We were sent a PDF file which was written by Viscount Christopher Monckton, a member of the UK House of Lords. This article really puts the boot into Al Gore's movie, "An Inconvenient Truth." It was written for the Science and Public Policy Institute (SPPI).
It seems the UK High Court has "debunked" most of the assertions in the movie and went so far as to refer to the movie as "political indoctrination".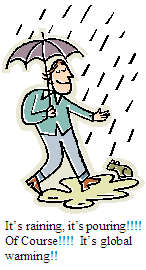 The article by Christopher Monckton concludes by saying:- "As many as 35 serious scientific errors or exaggerations, all pointing towards invention of a threat that does not exist at all, or exaggerations of phenomena that do exist, do not reflect credit on the presenter of the movie or on those who advised him".
You can read Christopher Monckton's report HERE
One thing that should be watched very carefully is the United Nations Climate Change Conference which will be held in Copenhagen from 7th December to the 18th December. This conference will try and get all the world's nations to sign an agreement that could be detrimental to our Nation's prosperity. The agreement would compel all nations to form an unelected "World Government" which would move a major portion of all developed countries' wealth off-shore and give it to third world countries - all in the name of "Climate Change." Janet Albrechtsen, who writes for the Australian, wrote about it on the 28th October 2009 - you can read what she wrote HERE.
You can read a copy of the proposed treaty HERE and you can hear Christopher Moncton interviewed on the subject by Alan Jones on 2GB HERE.
And as far as CO2 being the bad boy on the block and the chief cause of global warming, it seems one of the world's leading scientists in this area, Richard Lindzen, the Alfred P. Sloan Professor of Meteorology at MIT reckons that it's all garbage. He recently complained about the "shrill alarmism" of Gore's movie "An Inconvenient Truth" and acknowledges that although global warming is real, increased carbon emissions might be causing the warming -- but they also might not!!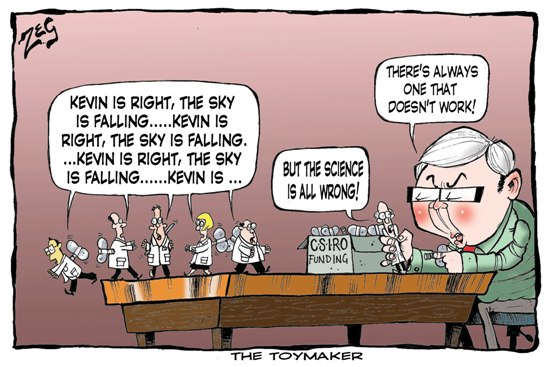 He says "`We do not understand the natural internal variability of climate change. The evidence now suggests that the Greenland ice sheet is actually growing and that Alpine glaciers have been retreating since the early 19th century and were advancing for several centuries before that. Since about 1970, many of the glaciers have stopped retreating and some are now advancing again and more importantly, the world has not warmed one bit for the past 10 years!!!. And, frankly, we don't know why."
Richard Lindzen was interviewed by Michael Smith on Brisbane's radio station 4BC on the 4th November, you can hear the full interview HERE - it is very interesting. Listen to the man's credentials and compare them with all the "experts" in the press and those well learned chaps on the ABC.
And here are two more interesting sites, HERE and HERE.
You'll also notice that the term "Global Warming" is been quietly dropped - it was all garbage from day one as the earth has not warmed for the past 10 years, the new catch cry is now "Climate Change" which has been going on naturally for ever.
What IS going on??? It seems to us that climate change and global warming and carbon trading and all this stuff is a matter of Politics - and not science at all.
Apart from the Politicians who are pushing the barrow, no one seems to know what it's all about - and when you question it, you are branded a sceptic. Well, I don't know about you - but I don't like being critically classified by these people just because I question what they consider as an axiom.
Because the financial interests are so huge and (it seems to me) there is so much miss-information out there, a Royal Commission should be convened to look at it - a vehicle where independent and credible witnesses could be called and give evidence under oath so we could get to the truth of the matter, because right now, all we are being fed is heap of biased opinion - from both sides.