Both the first and the second Caribou ferry had been completed by June 1964. During the second ferry through RAAF Base Butterworth, Malaysia the pilots on that ferry learned that a flight of Caribou aircraft would be committed to operations in Vietnam. Two pilots heard about it in an unusual manner.
After lunch each day officers would go into the officer's mess lounge room to listen to the world news on the radio. Believe it or not, back then people would sit and look at the radio as intently as people today look at a television. On this occasion l can remember sitting beside John Staal when we heard the announcement that a flight of RAAF Caribous were to be despatched to Vietnam. We looked at one another and bolted for the aircraft lines.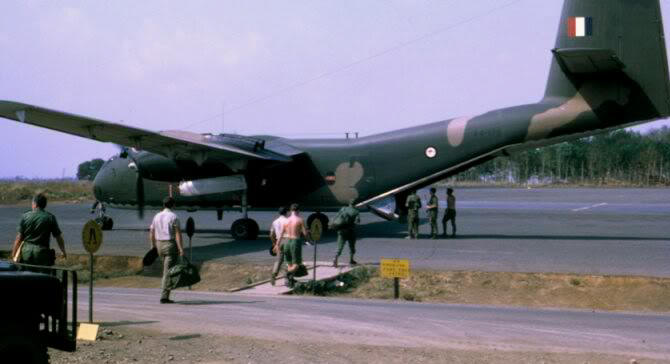 Simultaneously we had guessed that SQN LDR Chris Sugden, (see Note 2), the leader of our ferry of three aircraft, would be the first CO as he was the most widely experienced officer on our squadron. He was down at the lines inspecting a Caribou and we wanted to be his first volunteers. After about a kilometre run- not a jog, and it was about half a mile then, we both ran up to Suggy absolutely puffed, saluted and gasped out the news and begged to be allowed to join him if he lead the Caribous into Vietnam. Our Caribou ferry had been delayed by suspected sabotage (see Note 3) so he had got to know us fairly well. He agreed to recommend us if he was selected to lead the first group. With a bit of luck we were going to war!
Back in Australia a week later those that were picked for Vietnam were given pre-embarkation leave then briefings and some intensive training. We started to think about what we might take to Vietnam to identify ourselves; slouch hats, flags, koalas? All the suggestions were dismissed as "kitchy", too large or too expensive.
During this busy period the friendship with the Qantas air hostesses was renewed. At one of the get togethers a boggy (it may well have been John Staal) saw one of the girls with a Qantas pin; the golden kangaroo. We asked the girls if they could get us some pins. They told us they would try and also that they would organise a send off party for us. The party was a happy affair. I remember three people from that evening. Mick Gwinn

among the loadmasters because he was a big gentle giant and towered over everyone else, John Staal with Geertje arrived late as they had gone to a night club where the leading talent had sang a funny song about Vietnam and Delas England, a hostie, who had a small cardboard box jammed packed with a few hundred kangaroo pins; a great gift from Qantas.
Sometime later the pins were given to Suggy who distributed them amongst all members of the RTFV group who flew from Malaysia into Vietnam. I think each member had about 5 pins. The aim was to award the pins to those people in Vietnam who gave us a special service.
A day or so after arriving in Vietnam Suggy gave a pin to the Base Commander Vung Tau, Colonel Dillard, US Army, (See Note 4). Dillard was a most professional officer who did what he could to get us kitted, billeted and supplied to become an effective unit without delays. Likewise Major Dillard, US Army, the Executive Officer to the colonel (but no relation) received a pin. Other people around Vung Tau also received the kangaroo aka Qantas pins.
Major Schaumberg, USAF, was our liaison officer and he was most diligent in getting RTFV operational "in country". RTFV had been integrated as part of the USAF air support services and was tasked by the USAF but most of the tasks were supporting the US Army and the South Vietnamese Army. Our induction had been completed in record time thanks in a large part to Schaumberg. The only item requiring agreement was a unit call-sign which would identify us for all future operations.
So when Suggy gave Schaumberg a Qantas pin as appreciation for his services to us the conversation went something like; "What is this animal called, Chris?". Schaumberg sometimes had a peculiar manner of pronouncing and emphasising each syllable.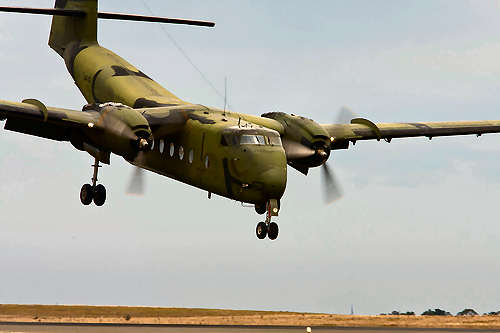 On this occasion in an almost Southern drawl Schaumberg said "An- I- Mal" although I do not recall Schaumberg being a Southerner. Chris replied. "A Kangaroo. That could be a suitable name for our squadron call-sign?". Schaumberg was almost aghast. "A Kan-Ga-Roo? Hell Chris, that's not an easy name to pronounce. The Vietnamese would find it impossible. Are they called something else". Chris replied. "A Wallaby".
The name had an instant appeal for Schaumberg. He said it several times. "Wal-La-By" sounded much better to Schaumberg than "kangaroo." It was Schaumberg who then said that he would arrange for "Wallaby" to become the identifier for the RAAF Transport Flight Vietnam (RTFV) which later became 35 SQN.
Thus "Wallaby" Airlines was named after a casual relationship with the QANTAS kangaroo.
Thanks to Ken Howard, Peter Sugden, Kev Henderson and Jeff Pedrina whose worthy book, "Wallaby Airlines," caused me to finally write down these notes.