Below is a review of the book
Tall Tails of the South Pacific,
by Captain John Laming, AFC
Reviewed by Macarthur Job, OAM
This highly readable anthology by John Laming reflects his colourful life experiences from schoolboy years in England during WW2, to those of a senior airline pilot, operating Boeing 737s throughout the islands of the Pacific Ocean.
Laming's name is well known to Australian readers (and indeed to some overseas) as the author of numerous entertaining and instructive aviation magazine articles. Within the aviation industry itself, he is also known today as a simulator instructor par excellence, with a wealth of experience as an international jet pilot, and as a former RAAF pilot and flying instructor on heavy aircraft. He is a fount of that good old-fashioned flying wisdom which, in less politically correct times, was universally known as "airmanship".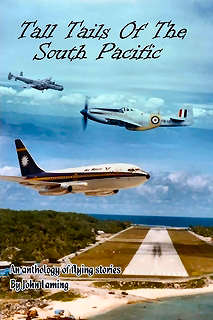 Brought up by relatives in a Kentish village while his father was serving in WW2, he has vivid memories of British and German aircraft wheeling overhead as they fought out the Battle of Britain, and of accompanying his uncle at various times on Volunteer Air Observer Corps duties in south-eastern England's lush countryside. These experiences doubtless did much to stimulate a passion for a lifetime involvement with flying.
Migrating to Australia as a teenager after the war, his first job on leaving school was with Herald Flying Services at Camden Airport, southwest of Sydney. A subsidiary of the Sydney Morning Herald newspaper where his father was now a journalist, the company's function was daily to fly bundles of newspapers to various centres in the State in their ex-RAAF DC-3s and Lockheed Hudsons, dropping them from the air at low level.
The young Laming's duties included basic maintenance, laying flares along the runway for early morning take-offs in the dark, loading and dispatching aircraft, and other general jobs, including occasional flights. But it was enough to fan the flames of his interest into a burning desire to become a pilot.
Three years later, when he could afford it, he began flying training at Sydney's Banktown Airport in ex-RAAF Tiger Moths. Several months afterwards, real opportunity knocked when the RAAF began recruiting new aircrew. To his great joy, he was accepted for pilot training. It marked the beginning of a long, and fascinating flying career covering many categories of aircraft – from high performance fighters to heavy bombers, VIP transports, and airline jets.
Tall Tails of the South Pacific offers a highly entertaining cross-section of those varied experiences, often with under-stated humour and a keen understanding of the frailties and quirks of human nature. It also provides a behind-the-scenes look at the diverse human processes and difficulties that despite all, enable the armed services and the airlines to operate seeming efficiently.
For all interested in aircraft and flying, it is a book not to be missed.
And Speaking of Lincolns……
Kev Rosser sent us this photo, he says "This photo is 43 years old! When Phil Murphy and I arrived at Amberley in 1967, this Lincoln was parked over the other side of the base from the buildings. Phil and I went over there one weekend and crawled through it. I now regret not taking photos of the inside of the aircraft.
Years later I heard that the aircraft had been buried because it was radio active! It apparently had flown through the radio active cloud raised by at least one of the Maralinga atomic bomb, tests. I wonder if this is a furphy! however, the aircraft certainly isn't there any more!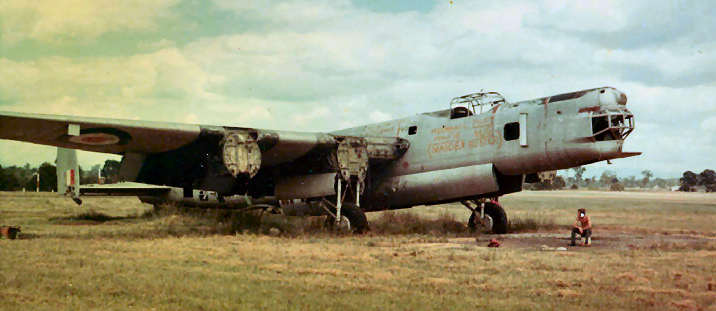 Ps: I shouldn't have, but I have been talking to Wayne Smith and he reminded me of the time when we made a bomb utilising among other things, an oxygen cylinder, Canberra starting cartridges, an aluminium cigar tube and Susie's cheese grater!