Ballarat.
Phillip Marsh advises that arrangements for the RAAF Ballarat reunion have been firmed up.
Phil says, "The reunion will be held over 5 days, from Wednesday the 23rd to Sunday the 27th March 2011. Registration/Happy hours will be held on the Wednesday and the Friday at the Ballarat RSL, which is in Lyons St. Time will be 1830. The fee will cover beer, wine, soft drink, and finger food and the free bar will continue until the money allocated runs out. There are no catering facilities at the RSL so best have a meal or snack before you come. Parking will be available at St Pat's, opposite the RSL, on Wed and Fri night".
"We are planning to hold a Civic reception on the Thursday morning though this hasn't been confirmed up yet and we'll advise on this later.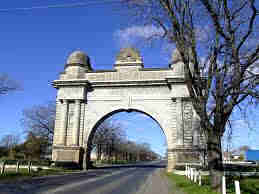 We have also arranged a bus tour on the Friday which will go to the museums at the RAAF Base and then to the Aero Club for a light lunch. The memorial service will take place at 1030, at the Prisoner of War memorial near the Botanical Gardens and Lake Wendouree. Seating will be provided. Following the ceremony we will be providing finger food and cup of tea/coffee at the RSL. Medals may be worn.
The more formal part of the reunion will be the Dinner at the Ballarat University. Commencing at 1830 for a meal at 1915, we will start with finger food, wine, beer and soft drink, followed by a 2 course meal. Speeches will be held to a minimum. The Barbecue will be held at 1200 at the Ballarat University, and will be informal and catered.
The costs will be $130 P/P, if attending all functions. This does not include accommodation, meals (other than those listed), transport, or other incidentals. As mentioned earlier, the contact for accommodation in Ballarat is at HTTP://www.ballarat.com , Phone 1800 44 66 33 or email tourism@ballarat.vic.gov.au. Most have indicated that they will organize their own accommodation.
There is an airport shuttle bus from Melbourne airport to Ballarat. Phone 03 5333 4181 or on the internet http://www.airportshuttlebus.com.au . Bookings can be made online. Trains are also available at http://www.vline.com.au . The phone number is 03 9697 2076. Note that some air travel arrives at Avalon!
The most important thing is to send us your full payment by 5th February. Please forward your cheque and completed booking form. Make Cheques payable to RAAF Ballarat reunion.
You can download the Reunion Letter/Form HERE, please fill it in and return it to us. If you have problems, or you require addition information please contact Doreen on 02 9560 8486 or email to radschl.reunion@gmail.com
Remember, the reunion is for all of the good folk who spent time at Ballarat and for the youngsters who 'did time' at Radschool at Laverton as well.