Paddy was driving down the street in a sweat because he had an important meeting and couldn't find a parking place. Looking up to heaven he said, 'Lord take pity on me. If you find me a parking place, I will go to Mass every Sunday for the rest of me life and give up me Irish Whiskey!'


Miraculously, a parking place appeared.


Paddy looked up again and said, 'Never mind God, I found one.'
Peter Nelms.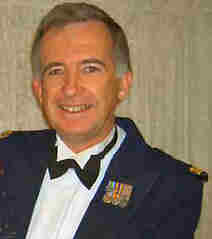 After completing primary school on Thursday Island and high school in Cairns, Peter joined the RAAF in Feb 1967. He graduated from 12 RMT as a Radtech Air in Aug 1968 and was posted to Williamtown. In those days everyone was posted to 481 (M) Sqn and it was up to the radio WOFF to decide where you would work. Peter was sent to 2 OCU to work on Vampires and Sabres. Ossie McGuire was the radio FSGT; John Stumpke was the SGT and Gerry Millward the CPL. As a living-in singlie Peter shared a room with the SAR chopper crewmen so it wasn't long before he got his first flight.
It was a night flight and, after they had been flying around for a while, they landed and put him out with a little flashing torch. After taking off again and circling they came back and lowering the winch for him. Once he was in the harness they took off with him dangling like a big teabag. It was a pitch black night and he thought any minute he would be wrapped around a tree! Later, after he became familiar with the area, he found out that they were at the DZ at Saltash and there were no trees.
Another memorable experience was on a rescue mission to recover a Vampire that had gone U/S at Sale. They had a Caribou to take the recovery team from Williamtown but they had to call into Richmond on the way to pick up some parts they needed for the mission. When they got there, Richmond was totalling fogged in and they had to do a GCA approach. It was interesting to have a headset on and listen to the pilot being talked down whilst looking out the window and being able to see nothing all the way to touch-down.
Peter also had a couple of Army Coop exercises to Townsville with the Sabres, which were good fun, and an attachment to Sale for a Macchi course. 2OCU had become too big with six different aircraft types (Vampires,

Sabres, Macchis, Winjeels, Mirages and Iroquois) so they formed 5 OTU with the Sabres, Vampires and Macchis and 4 FLT got the Winjeels and Iroquois. He was posted to 5 OTU for the full period of its existence. Stinkie Stenhouse was the CO. It was while he was seconded down to Cyrano section, on the APG-56 bench, that he got his CPLs. He tried to get across onto Mirages, with the intention of a posting to Butterworth, but because Sabres were on their way out he was classified as essential personnel and had to stay with the Swords.
In the days before refund of R&Q,he moved off base into an old overgrown house at Mayfield (under the BHP chimneys) with a group of other single RadTechs – Greg Bruce from 5 OTU, Bob Kochevatkin from Cyrano and Russ Anderson from Base Radio. The nurses' quarters at the Mater hospital nearby proved to be a ready source of girls for parties at the house and there were quite a few marriages between RAAFies and nurses as a result. In fact, Peter was the only one from the house who didn't marry a nurse when he chose a Newcastle girl, Sue.
After the disposal of the Sabres he finally got to Mirages and, in early 1973 as a corporal, he was posted to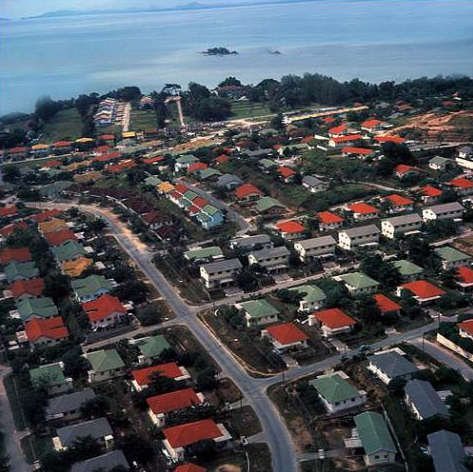 75 Sqn at Butterworth. After six weeks living in the Hostie they were allocated a house on Penang Island, Hillside (right) to live in and he had to go across to the mainland each day, on the ferry, to get to work.
It was here that Peter worked with Phil Holden, Ted McEvoy, Spook Villiers, Tex Reinke, Slim Hurrell, and Ken Morris.
The RAAF also maintained a permanent presence with a number of aircraft in Singapore and the two squadrons, 3 and 75, had to take it in turns to go down there, for six weeks at a time, to operate them. The wives stayed back at Penang and the blokes had to live in at Tengah (below) which was at that stage an RAF base.
They had a great life in Malaysia with a housemaid and lots of sporting activities and a good social life. They had a daughter, Natalie, born at Butterworth (in the RAAF hospital) and she was six months old when Peter was posted back to Williamtown at the end of 1975. He worked for a while in COMNAV and on the RAAF crash boats, which operated out of Newcastle harbour, and was then promoted to Sergeant and transferred to the guided missile (Matra) workshop. Reg Owen and Brian King were the WOFFs in 481 at the time.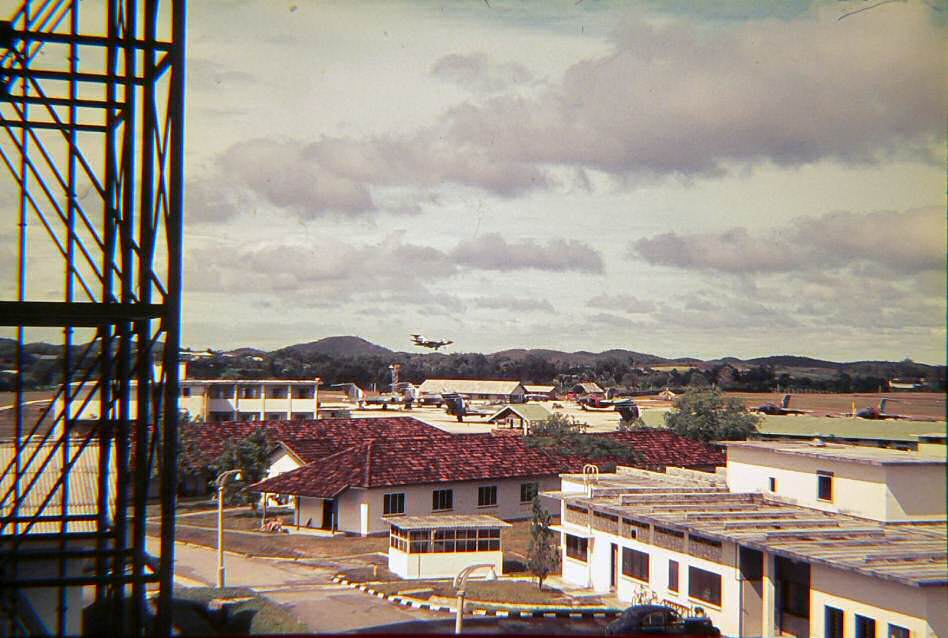 Peter was on the tarmac one day to see Geoff Shepherd, the recently retired Chief of the Air Force, and Poddle Wood bang out of a dual Mirage behind 2 OCU HQ. Towards the end of 1977 Peter was posted back to 75 Sqn and once again lived on Penang; and did the trips to Singapore. In 1978 they had another daughter, Rebecca; born there (must have been something in the air).
In 1980 he was posted back to the School of Radio; this time as an instructor. After a couple of years there he was commissioned as a radio officer. After OTS he was posted to SUPCOM where he spent another couple of years before being posted to 2AD at Richmond. Here he was in charge of the radio, electrical, instrument and armament sections and had about 130 people working for him. While there the family were lucky enough to get a trip to California for a fortnight in an RAAF B707; with 4 days stop-over in Hawaii. He was next posted to HQ OPCOM at Glenbrook. In this job he travelled all over Australia doing the OPCOM staff visits. He also got back to Malaysia for a short visit in 1988.
He was posted to Air Force Headquarters in Canberra in 1989 and, once again in this job, did a fair bit of travelling. In late 1989 he had a trip to USA where he flew into LA and then spent 3 weeks working his way across the country to New York; mainly visiting Defence contractors. He then spent a couple of days at the Australian embassy in Washington DC before heading home with a stop-over in Hawaii. In 1990 he was promoted to squadron leader and the following year had a working visit to New Zealand. He flew Qantas to Wellington and back from Auckland in a RAAF HS748 via Norfolk Island. In April 1992, after 25 years in the RAAF, he resigned and joined the Public Service (with the Defence Department in Canberra) where he still works today. He spent another 10 years in the RAAF Reserve Staff Group and, in this capacity, worked on the P3C ESM project.
Both daughters went to university in Canberra, whilst living at home with mum and dad. One daughter is now a chartered accountant and the other a high school teacher. Both daughters are now married and living in Canberra and Peter is the proud grandfather to three lovely girls.
Some of his life experiences have included visiting about 19 different countries and every state of Australia, being winched from a helicopter, attending the Ourimbah rock festival (Australia's equivalent of Woodstock - below), being a prime witness in an armed hold-up and police shootout, being the parade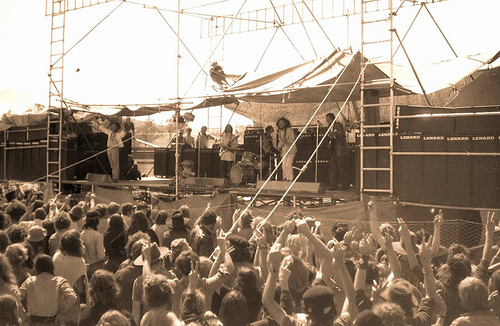 marshal for Victory in the Pacific parade at Martin Place in Sydney, having strawberries and cream at Wimbledon, climbing the Sydney Harbour bridge, carrying the Queen's Colour on a parade in front of the Queen, hot air balloon ride over Canberra, sitting on the open ramp of a Caribou aircraft dropping sonar buoys into Jervis Bay, drinking tankards of beer at the Hofbrauhaus in Munich to the sounds of the oom-pah-pah bands, being ceremonial guard commander at Parliament House in Canberra, being in the same lift that Hitler used to get to his "Eagle's Nest" near Salzburg, receiving an Australia Day award, visiting the Beatles museum at Liverpool, riding in a Shotover jet boat in New Zealand, working at the Australian embassy in Jakarta, flying a Macchi jet over the Blue Mountains, having a Singapore sling at Raffles Hotel and visiting the church near Oxford, England where his gggggggreat grandfather was buried (on 24 January 1774).