Radschool Association Magazine - Vol 24
Page 7
Privacy Policy | Join the Association | List of Members | Print this page
Richmond Rugby.
Alf Smith saw David Marr's photo of the 1963 RAAF Richmond rugby team in our last edition, and he can add another name – that of Jack Donlan (fondly aka 'The Goat'), who is 4th in from the right (back row) in the photo below. Jack was an 11 Sqn Sumpy and as Alf says, "there are so many stories about Jack from those days, that it would take an age to tell all of them. However, in this politically correct age in which we live, no-one would believe them (and knowing Jack – you wouldn't dare – tb)."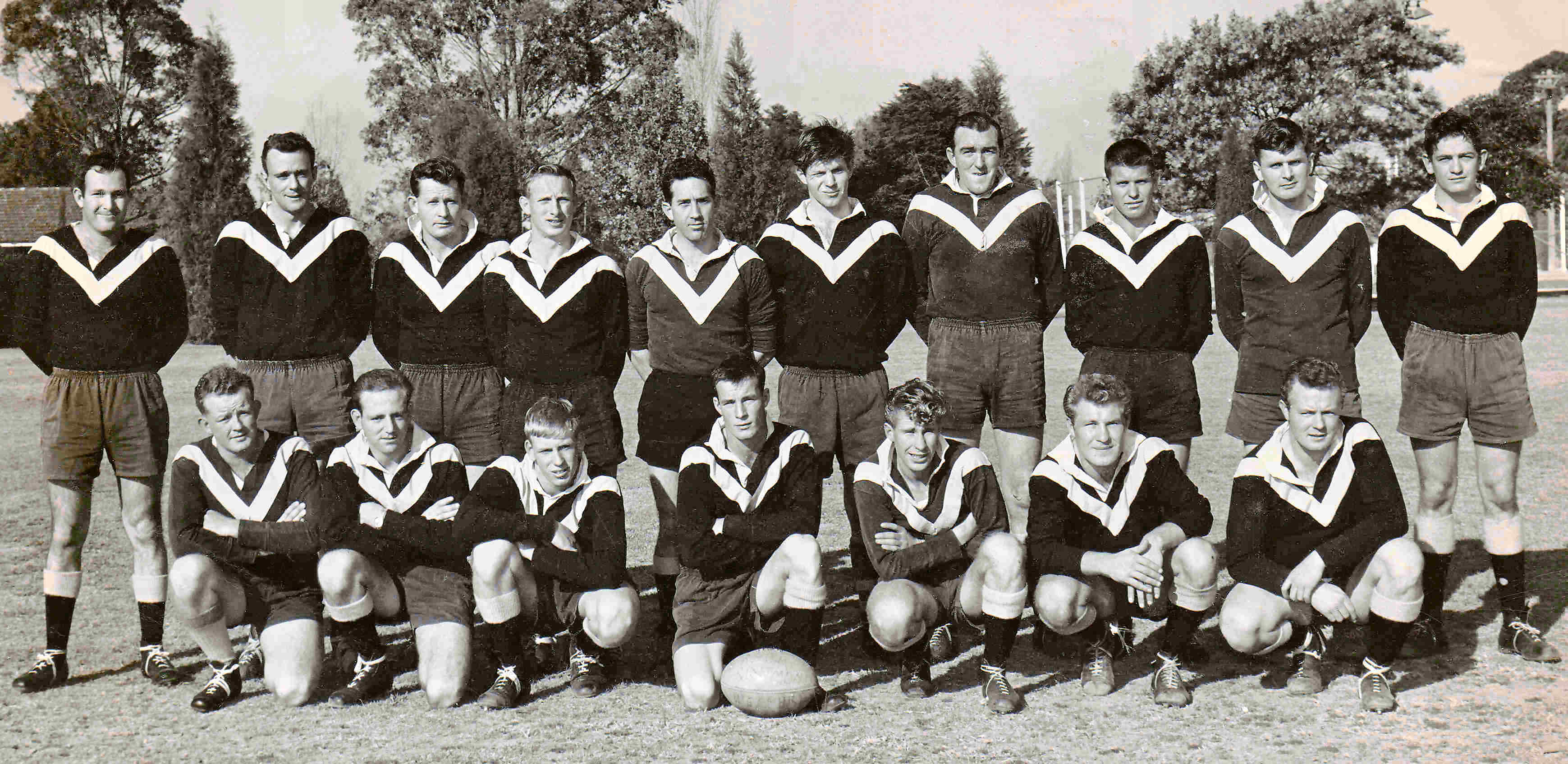 Other names from then, Brian Kinsella and Poddy Roden – do they ring a bell to anyone??
The children had all been photographed, and the teacher was trying to persuade each of them to buy
a copy of the group picture.
'Just think how nice it will be to look at it when you are all grown up and you can say, 'There's Jennifer,
she's a lawyer,' or 'That's Michael, He's a doctor'.'
A small voice at the back of the room rang out, 'And there's the teacher, she's dead.'
1961 RAAF Rugby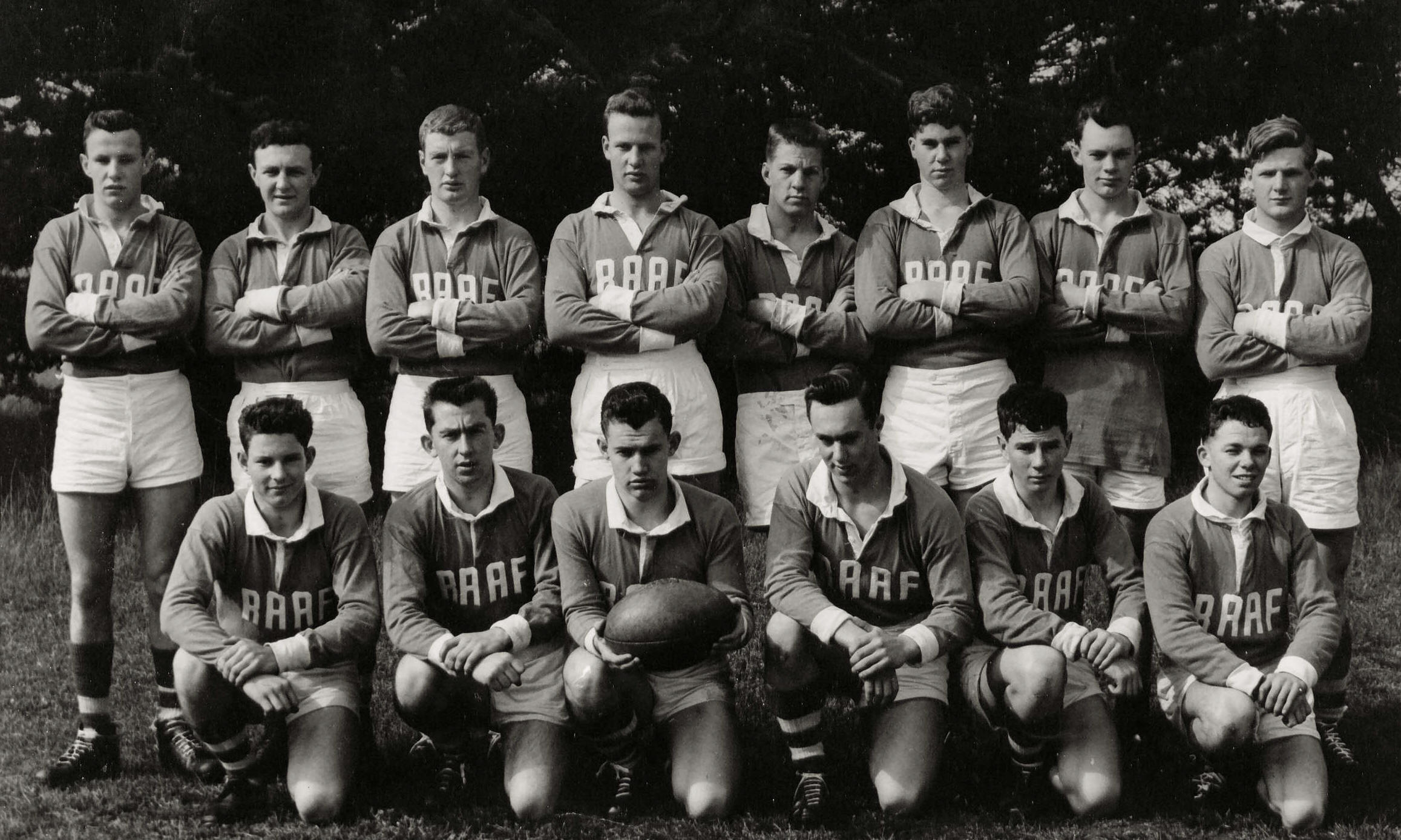 Standing L-R: Doug Kidd, Glen Gould, Alf Smith, Laurie Lindsay, Mick Deecke, Phil Holden,
Trev Staier, Brendan Hartigan.
Kneeling L-R: Colin Ball, Ted McEvoy, Chris Eldridge, Ian Guthrie, R. Deuble, R. Morris
It was now many years ago since the embarrassing day when a young woman, with a baby in her arms, entered his butcher shop and confronted him with the news that the baby was his and asked what was he going to do about it? Finally he offered to provide her with free meat until the boy was 16. She agreed.
He had been counting the years off on his calendar, and one day the teenager who had been collecting the meat each week, came into the shop and said, "I'll be 16 tomorrow." "I know," said the butcher with a smile, "I've been counting too, tell your mother, when you take this parcel of meat home, that it is the last free meat she'll get, and watch the expression on her face."
When the boy arrived home he told his mother. The woman nodded and said, "Son, go back to the butcher and tell him I have also had free bread, free milk, and free groceries for the last 16 years and watch the expression on HIS face!"
1975 Inter-Service Volley Ball Team.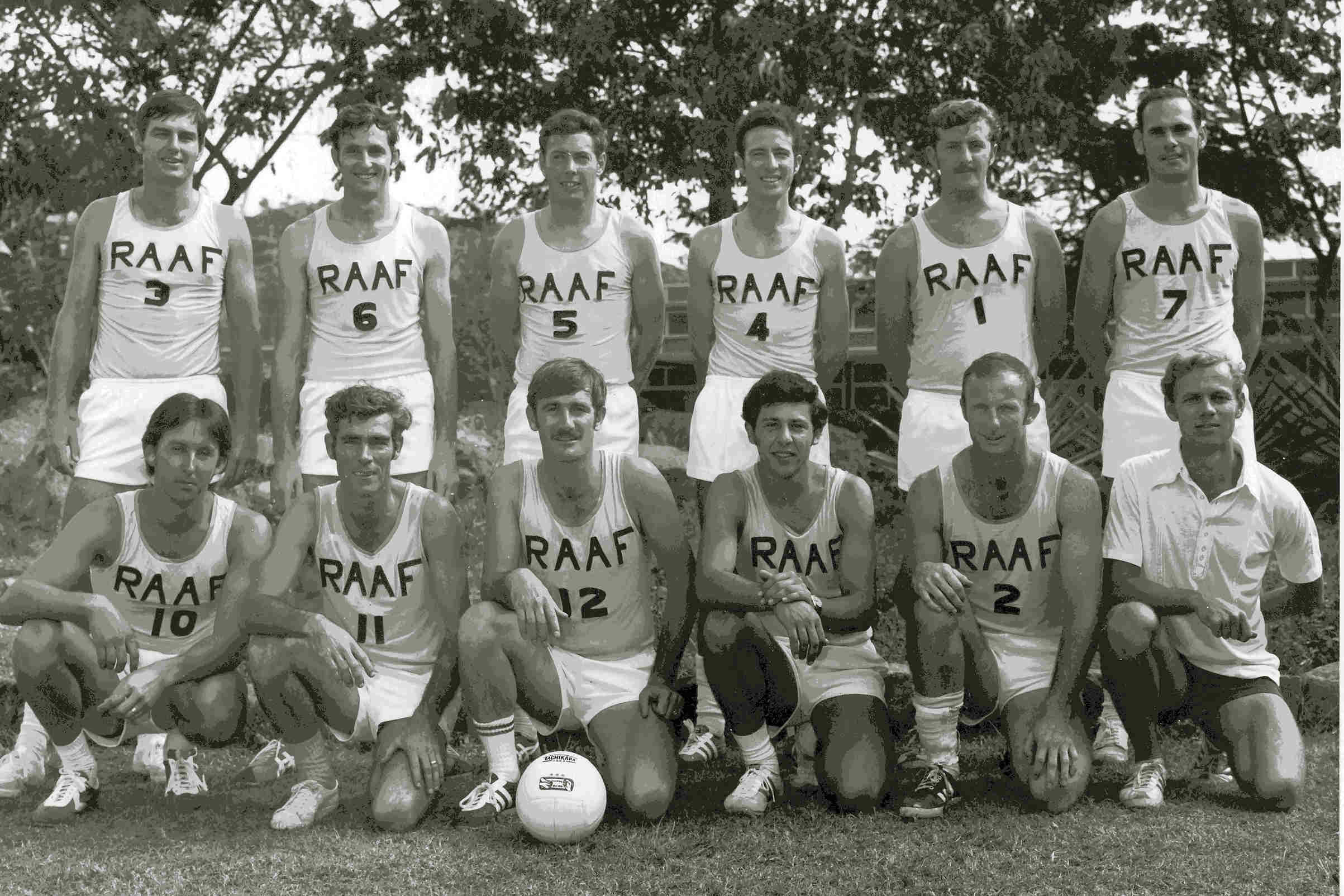 Back row L-R: Geoff 'Boorie' Neill, Bill Malkin, Ron Clayton, Scotty Stratford, Bob Caesar, Bob Stewart.
Front row L-R: Gary Glazier, Ross Milevskiy, Norm Davenport, Tony McLeod, Danny Parfitt, Paul Welch OIC. .
Ron Clayton gave us this photo (above) which we had in our last edition – and it brought back fond memories for Paul Welch (front row, far right). He says…
"As I sit in my study, the original volleyball photo is hanging on the wall. We had such a good time at that Inter Service in Townsville that the boys got one framed and presented it to me. Five days of beer, beach and sun. RAAF beat Army 3-0; I think the scores were about 15-1, 15-1, 15-4. Wish that score-line could have been repeated in one of my Inter Service rugby matches."
Ron was short of a few names, but Paul has filled in the blanks…
Vungers Ozzi Rules.
The photo below was taken about Sep/Oct 1967 at the Ettamogah Club in Vung Tau. It is the RAAF Ozzi Rules team getting their trophies after winning the grand final (Who did they play/beat?? – tb).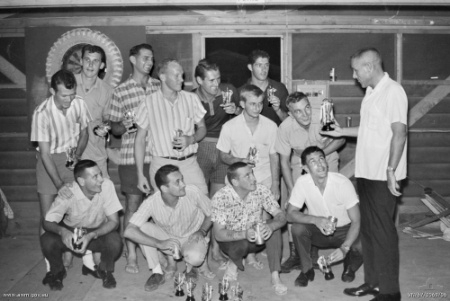 Not all the players were there for the trophy night, and we're a bit short on names of the blokes that were. This is what we have:-
From left standing are; LAC Alan Bloxsom from Qld, LAC Squiiz (Johnny Robb). Flt.Sgt. Col Robb from Narrogin WA, XXX, XXX, LAC Richard Mattiazzi from Wollongong NSW; LAC Nev. Schroeter from Stockwell SA, LAC Allan Evans from Essendon. VIC, LAC Les. Johnston from Adelaide SA; LAC Ron Vernon from Ulverstone, TAS.;

Front row; FL.Lt. Bob.Grandin from Moorabbin, VIC, Flt.Sgt. John Ireland from Blacktown, NSW, LAC. Bob. Stanton from VIC. Fly.Off. Mike Harness from Medina WA; and the old Padre. Sqn.Ldr. Norm Lawless.
Great truths about life that little children have learned.

* No matter how hard you try, you can't baptise cats.

* When your Mom is mad at your Dad, don't let her brush your hair.
Close – but no cigar.
Laurie Lindsay sent this, it is a photo of the 1962 Victorian Inter-service Athletics team. Unfortunately, the event was washed out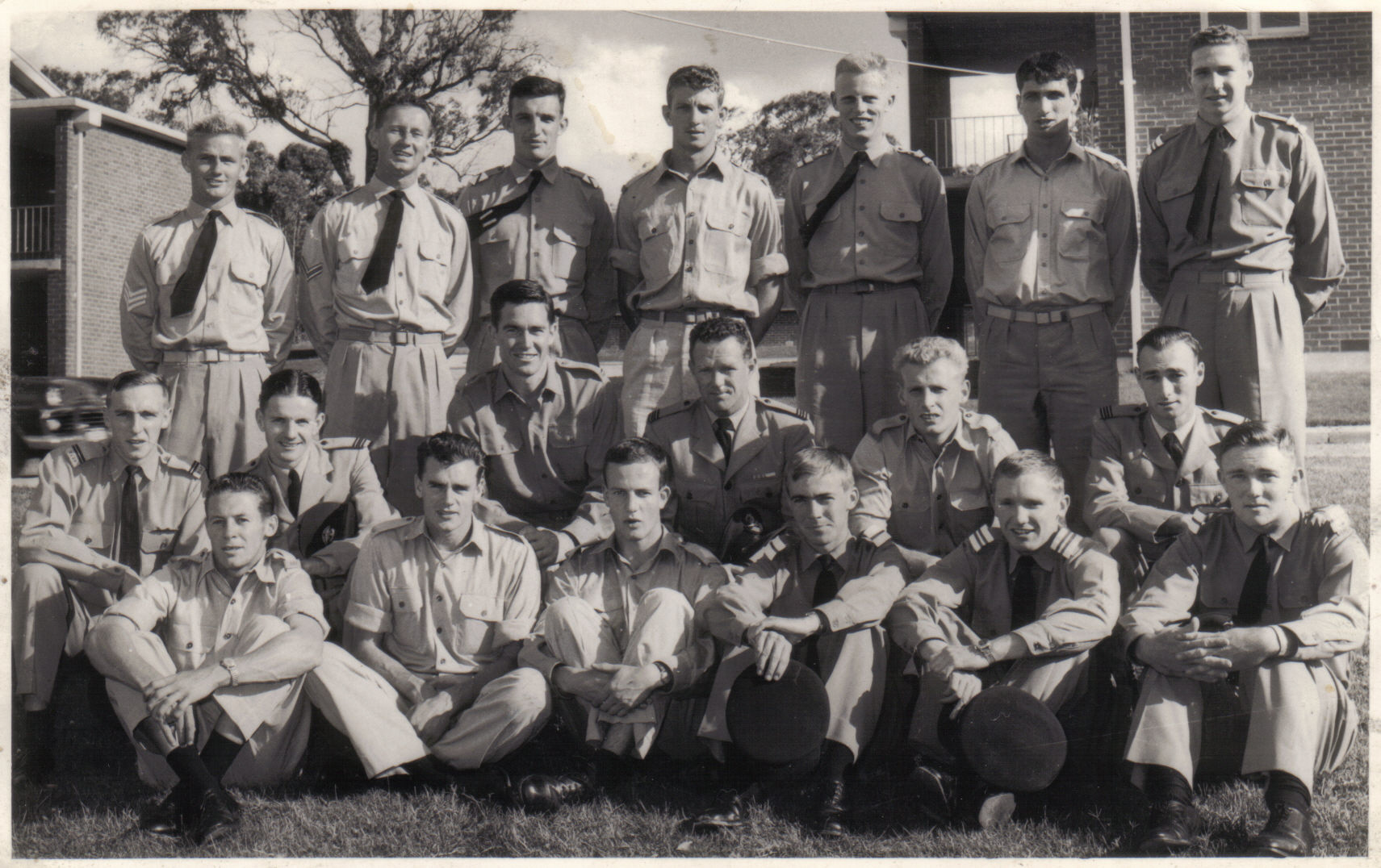 Back Row: John Telfer, Neil Swanson, Ivan Tolj, Kevin Kerr, Roger Budd, Nigel Benjamin, "Chook" Fowler
Middle Row: John Emery, Jim Hamilton, Bill Clements, Dick Talbot, Lance Sadawasser, Col Casey
Front Row: "Happy" Prior, Jock Turnbull, Laurie Lindsay, Mick Dunn, ????????, ?????????
Can anyone provide names to fill in the gaps??
The graduate with a Science degree asks,
"Why does it work?"

The graduate with an Engineering degree asks,
"How does it work?"

The graduate with an Accounting degree asks,
"What will it cost to make it work?"

The graduate with a Liberal Arts degree asks,
"Do you want fries with that?"
Back Go to page: 1 2 3 4 5 6 7 8 9 10 11 12 13 14 15 16 17 18 Forward