Invisible aircraft.
"This is your captain speaking, your plane is about to become invisible!"
Aircraft manufacturer, Airbus, has revealed it hopes to build a passenger plane with a completely transparent fuselage. At the push of a button the captain would send an electrical pulse through a hi-tech ceramic skin making the main body of the plane see-through.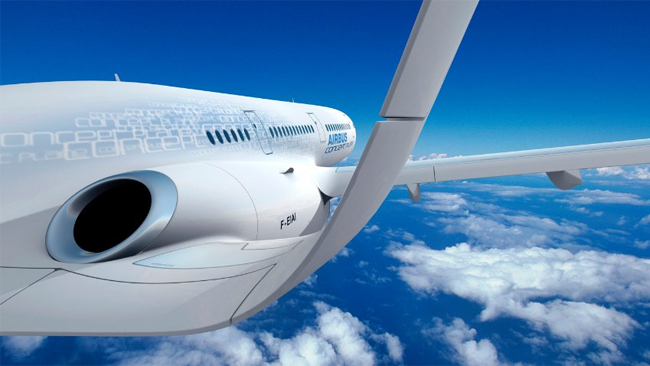 The extraordinary design would allow travellers to look down on cities and landscapes thousands of feet below or gaze up at the heavens, giving them the sensation of floating unassisted through the sky. While the proposal might seem far-fetched, it is one of a number of plans being considered by engineers at the European aerospace giant.
"Passengers in an airplane like this would experience flight in a completely new way," Airbus' head of research and technology, Axel Krein, said. (Some would freak out too – I would think!! AG)
Other developments envisaged by Krein's team include an aircraft skin that can repair itself in the event of cracks or breaches and streamline engines that are embedded in the plane's fuselage rather than attached to its wings (Didn't de Havilland do that with the DH 106 Comet back in 1949??). "We told our engineers to give their imaginations free rein. What emerged were completely realistic visions of flight in the year 2050," Mr Krein told Der Spiegel. "Our people are grounded in reality, after all. And most of the necessary technology already exists."
Business class?
You know the situation, you wait for ages in the international "cattle-class" check-in line, shuffling forward inch by inch, waiting to get to the counter to present your passport, drop off your bags and collect your boarding pass. You look over to the first/business class line and it seems to be speeding through, people in that line seem to spend only a few minutes before they're sorted and on their way to the Sheraton Class departure lounge while you wonder if you'll even make the flight.
But – sometimes, and only sometimes, you hear those magic words. You finally make it to the check in counter and the attendant greets you with a great big smile and informs you that as Economy has been over booked they can offer you an upgrade to Business - WOW!!!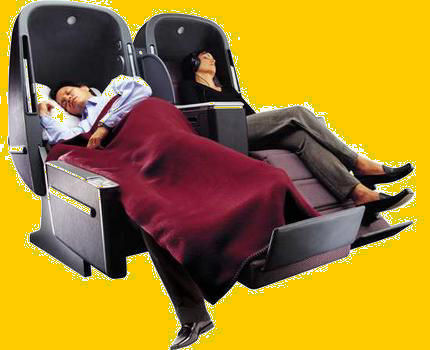 With business class tickets costing around six times as much as economy, not many of us has experienced this form of travel, so when you get the offer, it's like winning the lottery.
Qantas business class seats
lie almost flat.
But is Business Class really worth the extra money??
When you first enter the aircraft, you get the feeling that you're in for something special. Instead of the incredibly cramped legroom, where, if you've got the window seat, your seating companions have to stand up and move to the corridor so you can be seated, where there are fights for space in the overhead lockers and if you're late in boarding and getting to your seat you find you have to 'hunt' for space to put your belongings – no, this time you get shown to your seat by an attentive flight attendant and depending on the aircraft, you are shown to one of those futuristic "pod" seats that let you stretch out like you were in your own bed, complete with a private drawer underneath in which you can place your belongings.
Bliss!!
Once seated, you're offered a warm facial towel to refresh yourself and a chilled glass of champagne or juice, chocolate coated macadamia nuts, lip balm, moisturizer, now you're really living.
And then the doors close, the aircraft is pushed back, you sit through the safely demonstration of which absolutely no-one takes the faintest bit of notice and you're on your way to London, a journey which will take about 26 hours. Now you're over the moon at the thought of having your own private area for the duration of the flight, free from seat-kicking, arm-bumping, coughing and sneezing fellow passengers. Business class is definitely miles ahead in style and comfort, but, is it??
An economy class seat from Brisbane to London, via Qantas (there are cheaper fares, but we'll stick with Qantas) is $1,757 while a Business Class seat costs a whopping $11,240 – that's a difference of $9,483.
Unless you're dripping money from most open areas or someone else is paying (or you get a free upgrade) you really can, and do, sit in and put up with cattle class for those 26 hours, knowing that when you arrive at your destination, you will have a spare $9,483 to play with and splurge on your holiday.
For most of us, there really isn't a question – is there??