When scientists mistrust their data, they do they same thing you do when you think your watch is off: they check another clock. To diagnose the problem in the Atlantic, Willis needed to compare ocean temperature measurements from multiple sources. The first source he turned to was sea level data from satellite altimeters. Because water expands when it absorbs heat, and contracts when it cools, sea level is physically connected to heat content in the upper ocean. Satellite altimeters measure sea surface height with radar. The radar sends a pulse of energy toward the Earth's surface and listens for the echo. The time delay and intensity of the echo reveal the altitude of the sea surface.
Willis also had ocean-based data sets, including temperature profiles from the Argo robot fleet as well as from expendable bathythermographs, called "XBTs" for short. XBTs are the equivalent of a disposable razor. A temperature sensor is spooled out behind a ship by thin copper wire. It sinks through the water at a constant rate, making measurements at increasing depths, transmitting them back to the ship via the wire until the entire length of wire is unspooled (up to 1

,500 meters), at which point the connection (wire) breaks and the XBT falls to the ocean floor discarded
An XBT may look like a rocket, but it's more like a fishing weight: a heavy zinc nose houses a thermistor (to measure temperature). They have been used by the U.S. Navy and oceanographers since the 1960s. "Basically, I used the sea level data as a bridge to the in situ [ocean-based] data," explains Willis, comparing them to one another figuring out where they didn't agree. "First, I identified some new Argo floats that were giving bad data; they were too cool compared to other sources of data during the time period. It wasn't a large number of floats, but the data was bad enough, so that when I tossed them, most of the cooling went away. But there was still a little bit, so I kept digging and digging."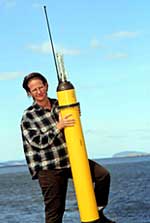 The digging led him to the data from the expendable temperature sensors, the XBTs. A month before, Willis had seen a paper that showed a comparison of XBT data collected over the past few decades to temperatures obtained in the same ocean areas by more accurate techniques, such as bottled water samples collected during research cruises. Compared to more accurate observations, the XBTs were too warm. The problem was more pronounced at some points in time than others.
When he factored the too-warm XBT measurements into his ocean warming time series, the last of the ocean cooling went away. Later, Willis teamed up with Susan Wijffels (right) of the CSIRO and other ocean scientists to diagnose the XBT problems in detail and come up with a way to correct them. "So the new Argo data were too cold, and the older XBT data were too warm, and together, they made it seem like the ocean had cooled," says Willis. The February evening he discovered the mistake, he says, is "burned into my memory." He was supposed to fly to Colorado that weekend to give a talk on "ocean cooling" to prominent climate researchers. Instead, he'd be talking about how it was all a mistake.
Smoothing the Bumps.
A scientist could hardly be expected to be happy about finding a mistake in his work after he had published it. But if you have to watch your research go down in flames, it may help to regard it as an offering on the sacrificial fire of scientific progress. In the case of "ocean cooling," Willis has plenty of reasons to consider the sacrifice was worth it.
The first payoff for finding and fixing the XBT errors was that it allowed scientists to reconcile a stubborn and puzzling mismatch between climate model simulations of ocean warming for the past half century and observations. The second was that it helped explain why sea level rise between 1961-2003 was larger than scientists had previously been able to account for.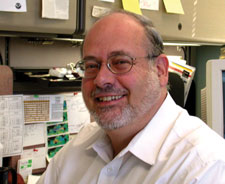 Much of what scientists know about how ocean heat content has changed over the past half century comes from the work of Sydney Levitus, (right) the director of NOAA's Ocean Climate Laboratory in Silver Spring, Maryland, and his colleagues. In the early 1990s, the United Nations Education and Scientific Organization (UNESCO) asked Levitus to undertake a scientific rescue mission. The group wanted Levitus to locate historical ocean data sitting around in dusty library stacks, mouldy basements, and forgotten filing cabinets around the world before they were lost to natural disaster or neglect. The project became known as the Global Oceanographic Data Archeology and Rescue Project (GODAR).
Historical climate records provide important context for modern measurements. This type of XBT was used in the mid-1960s. "Since 1993 or so, we have added several million historical temperature profiles. This collection allowed us for the first time to estimate the change in ocean heat content from 1955 on. When we first published these results in 2000, they received a great deal of media, congressional, and scientific attention,

because the warming that we saw was consistent with what would have been expected due to the increased greenhouse gases in the atmosphere," recalls Levitus. What wasn't consistent were several large bumps in the graph of heat content over time. "We saw an overall linear [warming] trend that was consistent" says Levitus, "but we also saw some very large interdecadal variability. In particular, toward the late 1970s, heat content increased substantially and then around 1980, it decreased substantially." "Those bumps gave everyone heartburn," says Willis. There was no established physical explanation for them, and climate models didn't reproduce them. The science community wasn't sure whether the discrepancy cast doubt on the models or the observations, but fingers got pointed in both directions.

In mid-2008, however, a team of scientists led by Catia Domingues (right) and John Church from the CSIRO, and Peter Gleckler, from Lawrence Livermore National Laboratory in California, revised long-term estimates of ocean warming based on the corrected XBT data. Since the revision, says Willis, the bumps in the graph have largely disappeared, which means the observations and the models are in much better agreement. "That makes everyone happier," Willis says.
"What is now evident is that it may be possible for the ocean to gain heat and lose it more rapidly than we had thought possible. There may be other phenomena [similar to El Nińo] operating on different time scales that can explain interdecadal increases and decreases," says Levitus. Even if these ups and downs don't change the long-term destination of global warming, they could reveal more detail about what kind of ride we can expect.
For CSIRO scientist Catia Domingues and her colleagues, being able to show that climate simulations and observations were in better agreement than they previously seemed was only the first payoff of the corrections to the XBT data. The second was that they used the revised data to balance the sea level budget for 1961-2003.
The two main causes of sea level rise are melting of the Earth's frozen landscapes, ice sheets, ice caps, and glaciers and thermal expansion. Water expands when it absorbs heat. If you add the amount of thermal expansion to the amount of melting, it should equal the observed sea level rise, but somehow, it never did. "When scientists added these terms, the sum was always less than the observed sea level rise measured by tide gauges and satellite altimeters. It's like one plus one did not equal two," says Domingues. Rising sea level is one of the most serious consequences of global warming. In the past 50 years, the sea level has risen about 1.8 (plus or minus 0.3) millimeters a year. Satellite observations since 1993 indicate the pace has accelerated to about 3 millimeters per year. What's driving the acceleration? How much and how fast will sea level rise in the future?
In principle, it should be possible to add up each of the individual components of sea level rise, melting continental ice sheets in Antarctica and Greenland, retreating glaciers, the thermal expansion of near-surface water, thermal expansion of the deep ocean, and changes in water storage on land, to calculate the total rise over time. Unfortunately, early attempts to balance the sea level budget never added up.
Susan Wijffels and her colleagues from the CSIRO, along with Josh Willis, provided a way to correct the XBT data, and the corrections were made and the first revised estimates of sea level rise due to ocean warming for the period 1961 to 2003 were finished. What was found was that ocean heating was larger than scientists previously thought, and so the contribution of thermal expansion to sea level rise was actually 50 percent larger than previous estimates.
It seems that the main reason the sea level budget between 1961 and 2003 would not add up before is that scientists were underestimating just how much warming and expanding the ocean was experiencing. But what about more recent changes in sea level?
"In this analysis, we focused on 1961-2003 because it is the time period highlighted as being an important, unresolved issue in the last IPCC report [Intergovernmental Panel on Climate Change Fourth Assessment Report]," said Domingues, "but also because the problems with the newest Argo data—the problems that Josh Willis found as well as other problems we have identified—haven't been totally solved. For the most recent years [2003-2007], the sea level budget once again does not close. Our team is still working on that problem."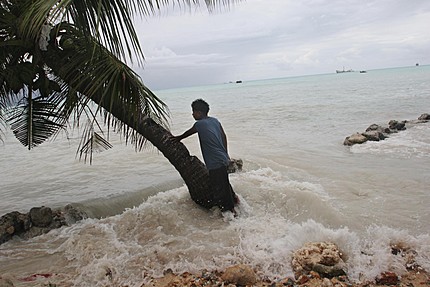 The corrected XBT data resolved much of the discrepancy between calculated and observed sea level rise by increasing the amount of change contributed by thermal expansion. Now, the combined effects of melting ice, thermal expansion, and terrestrial storage match measurements from tide gauges and satellite more closely, at least until the late 1990s.
They are also exploring how volcanic eruptions influence ocean heating, and whether a better understanding of how volcanoes influence the energy balance of the ocean will help explain short-term variability in ocean warming and cooling.
"One thing we found was that climate models that do not include volcanic forcing tend to overestimate the long-term change, and their simulated decadal variability is not in agreement with the observations. On the other hand, the models that include volcanic forcing are more realistic in terms of decadal variability, but they tend to slightly underestimate the long-term warming," she says. "This kind of result tells us volcanic forcing is important, but that we don't totally understand it yet."
If there is a moral to this story, it's that when it comes to understanding the climate system, it's hard to imagine too much redundancy. Every scientist involved in these studies says the same thing: to understand and predict our climate and how it is going to change, we need it all. We need multiple, independent, overlapping sets of observations of climate processes from space and from the Earth's surface so that we can create long-term climate records—and have confidence that they are accurate. We need theories about how the parts of the Earth system are related to each other so that we can make sense of observations. And we need models to help us see into the future.
"Models are not perfect," says Syd Levitus. "Data are not perfect. Theory isn't perfect. We shouldn't expect them to be. It's the combination of models, data, and theory that lead to improvements in our science, in our understanding of phenomena."