RAAF Pilot training in the fifties was not without its excitement, not that I had expected anything less or even thought about it much for that matter. My pilot logbook includes initial theory and basic aircraft handling of 90 hours on the Tiger Moth and Wirraway at Uranquinty with a further 100 hours advanced training on the Wirraway at Point Cook in Victoria; advanced training comprised formation flying, instrument flying, air to air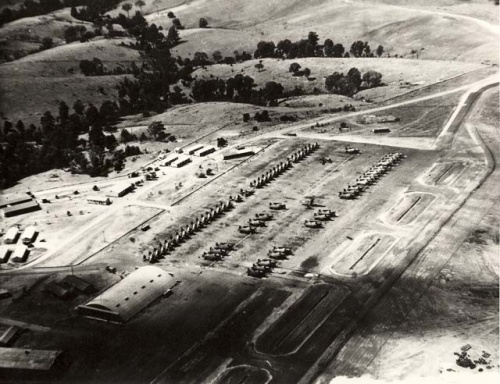 cine, dive bombing, gunnery and high, low and night navigation. The Tiger phase at Uranquinty was punctuated by an RAN trainee nosing his aeroplane onto its back after catching his wheels in long grass on the airfield, an event leading to frantic bouts of grass cutting and hay stack construction that summer (Ian Caird, the naval trainee involved was later killed in a Firefly that crashed into the mountains by the Naval Air Station at Nowra (right); the same locality where I almost met my maker in a Lincoln bomber a year or so later).
A friend, quiet, unassuming, Bill Muir had an engine fail on takeoff during his first solo flight;
"Wow Bill that must have been quite a first solo?"
"Really there wasn't that much to it, once the engine quit it was just a matter of landing somewhere. There was no decision involved; straight forward stuff actually."
Not to be outdone a RAAF trainee landed in the wrong lane and collided with my machine; cutting the tail off, chopping out the plywood turtle back and the tube steel sub-frame before chopping the back out of my seat and finishing on top of me - literally. Fortunately its propeller had been well and truly trashed before jamming me in my cockpit. Once again I was pleased that the Tiger's fuel tank was high on the top wing, clear of any damage, clear of any fire risk.
I finished that day in the base hospital for my troubles, a circumstance that so alarmed my pregnant wife that she convinced a friend to drive her to the flying school to check my condition. This was not her best idea that day for the friend duly rolled his car and we all ended up in hospital together although thankfully without much by way of serious injuries. All of which revealed my married status to the Commanding Officer at a time when it was forbidden for trainee pilots to wed. Years later I was to review and condemn an assortment of obsolete files from the Uranquinty archives at the time of our air training. While the crash and loss of two aeroplanes was dismissed as a natural hazard of air training, after all, trainees will be trainees, the fact that I had the temerity to marry during the interval between my interview and arrival on course seemed tantamount to the gunpowder plot. That I was running top marks on the Tiger Phase was about all that saved my skin.
The Wirraway was quite a step up from the biplane. Originally designed as a fighter, it seemed a steal from the American Harvard, although with a more powerful radial engine; it could be a treacherous gadget to land. The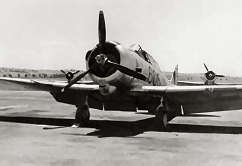 aeroplane had a wicked stall that required care, certainly if the nose was held higher than the three point attitude during landing. Touching down at night without landing lights, blinded by the exhaust and peering myopically through an oil smeared windscreen was usually an adventure. Not that the Wirraway was unique in the oil department; one civil aircraft I flew required down pipes temporarily fitted over its Warner Scarab exhaust stub to deflect oil away from the fuselage during engine starts. Fortunately I never flew that variant at night. The Wirraway also had some ergonomic idiosyncrasies: the cockpit sported an unconventional propeller, throttle and mixture lever arrangement with the mixture operating in the reverse sense; forward to stop the engine, back to enrich the fuel air mixture and allow the motor to run - the reverse to every other aircraft that I ever flew.
Similarly there was a trick to the hydraulic system in the form of a pressure control valve (PCV). The valve had to be pushed in to direct fluid pressure into the system; this pressure was required to force the flaps down against the airflow and pull wheels up against gravity. Of course Murphy's Law says that any procedural ambiguity will trap somebody sooner or later and here the trap involved selecting gear down, feeling the satisfying clunks as the wheels locked into place then forgetting to push the PCV in after selecting flap when the aircraft lined up with the airfield. The machine duly became very high on its approach; a situation mandating a go-around, a manoeuvre that involved selecting the wheels up and pushing the PCV in at which stage the wheels came up but, because the flap-handle was still in the down position, the flaps went down. I watched a Wirraway barely clear the trees at the Uranquinty boundary while a thoroughly bemused trainee struggled to work out just what on earth was going on. Of course these were the days when men were men: we either landed with full flap or none at all; partial flap was strictly for girls. The German Stuka dive bomber had nothing on a Wirraway glide approach with full flap and gear down.
Finally the reverse sense of the mixture control was the last straw, catching one of our chaps when he pushed the mixture lever forward instead of the throttle during a go-around and producing absolute silence from the front of the aeroplane. Interestingly the manoeuvre was not without elegance, as the aircraft settled on its belly with aplomb and minimal damage. Later, after we had graduated as sergeant pilots, I met Nobby at our storage depot at Tocumwal when he taxied in with a wingtip bent and busted during a wing-drop landing after a delivery flight. I guess he must have held off with 'the nose above the three point attitude'; I did not have the heart to ask him if that was the cause or how he felt about the Wirraway in general.
My lady and I were plagued by poverty during the trainee pilot days and for a time thereafter. The struggle to finance my flying, contribute to my Tiger Moth smash, maintain a recalcitrant motor cycle on the road and indulge a growing passion for gliding soaked up anything that I earned for a time. I met Lyn (Lyndel Joan Moore) at a family party after a three or four hour drive from Sydney to Newcastle. The drive, like most things that we did in those days, was quite a flamboyant exercise in a soft top Ford Anglia that required every one of its 10 horse power to climb even a moderate grade with four twenty year olds on board. Any power inadequacy was corrected by the driver applying half choke and taking a running pass at things, while cornering stability was enhanced by the passengers leaning out of the vehicle to keep it upright in the best sailing skiff tradition. Lyn and I duly married after an eighteen month courtship, rented a room in Wagga when I went on Number 23 Pilots Course and struggled with money and the intricacies of military aviation thereafter. Our son, Ric, was born at Wagga. Towards the end of the Uranquinty phase of training we moved to Melbourne for Applied Flying. Actually positioning on the various transfers was probably the most hazardous part of life at the time. The journey to Point Cook was completed in a friend's V8 Ford Coupe that provided a definite improvement in power and stability while lacking mechanical reliability; the tie rod joining the two front wheels persisted in falling off at the most inconvenient moments (even in Melbourne peak hour traffic on one momentous occasion) denying the driver use of both wheels to steer around corners. None of which phased the owner, Harry Morgan, who carried a hammer to bash things back into place whenever the situation arose.
I don't know if 'H', as he was known, used Lyn and me as a precedent however he and his lady, Heather, also married while we were on course; we finished up sharing a three bedroom flat in Essendon becoming close friends in the process. Harry was an amusing character, an accurate shot and an unassuming pilot who was far better than he would have people believe. He occasionally suffered severe nose bleeds and I once saw the top of his flight suit covered in blood after a Wirraway flight at Uranquinty; I do not know if this was cured before he started flying fighters – surely it must have been. Nevertheless I always wondered if it was a factor in the Sabre crash that killed him shortly after graduation. It seems that he misread his altimeter by 10,000 feet and flew into a mountain during his subsequent descent. Of course those were the days of 'three point altimeters', diabolical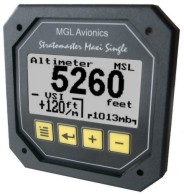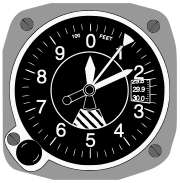 instruments that brought so many of us to a sticky end. I even misread one in a Vampire jet during an instrument descent on one occasion; fortunately I levelled 10,000 feet too high and quickly saw my error. I even miss-set one in my sailplane over 40 years later. The manufacturers eventually developed digital altimeter readouts for air transport and high performance aircraft as a solution to the problem. Flight management computers and modern 'fly by wire' machines take most of the grief out of this sort of thing now.
(It is easy to see where confusion can arise, the 3 point altimeter at left is indicating a level of 10,180ft whereas the digital one on the right indicates, clearly, 5,260ft - tb)
Marriage to an Airforce pilot, certainly an NCO and certainly a trainee, was hard on ladies. While pay was minimal and benefits few, families were generally left to their own devices, finding their own accommodation in strange cities every two or three years, arranging schooling, doctors, developing new friendships and assuming new responsibilities while supporting their husband in a risky career. Additionally, the instability usually made home ownership an impractical dream; even if people had the money to purchase a house. Whenever the husband was deployed away or otherwise committed, the lady did it all on her own; a difficult situation that was complicated further if the family did not own a car, as was the case during our early married life. Renting a reasonable house or flat was invariably a struggle although the RAAF eventually provided some relief through a temporary accommodation allowance to tide us over until a suitable, affordable rental could be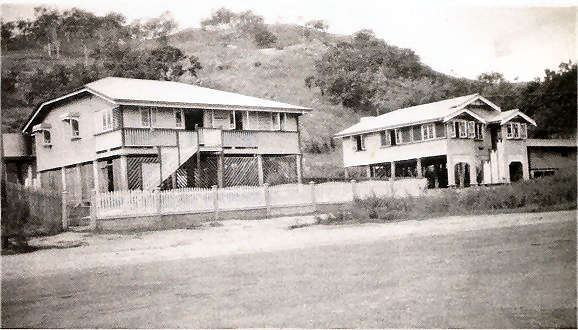 found. Naturally applicants for TAA, as it was termed, had to meet a battery of ongoing conditions. Some of the rental accommodation was appalling; we once encountered a council employee in Townsville who purchased condemned houses then rented them back to the public; Airforce families in particular. We rejected one place after centipedes crawled out of taps on the wash tubs – even though it contained a resident kitten that promptly charmed our son. Things became easier with seniority and rank, however the burden associated with frequent postings was always there. (Right: Officers' married quarters, Townsville.)
Lucky indeed was the family that was awarded a 'married quarter', certainly one with the low rentals prevailing on the air base proper. There was always underlying concern over the hazards of the game. The best pilots, and those who wanted to star, flew the hottest aeroplanes at a time when we were still learning the science behind very high speed flight. Some wives handled the stress with grace and dignity; some did not but should not be accused of any weakness; it was a difficult life for a woman. My lady and I often joked of the risks;
"How will I know if you have crashed?"
"Easy, somebody will knock on the door and ask for the Widow Raymond."
Unfortunately the joke backfired when a colleague, John St Moore, called on her after a fatal at Point Cook to advise that I was OK but could not be contacted as I was still flying. When Lyn opened the door in response to John's knock he asked, "Ron Raymond's wife?" To which Lyn replied innocently, "The Widow Raymond you mean?"
I can only take my hat off to that lady, or at least to the memory of her, but that's another story.
The particular crash that I refer to, out of context I am afraid, involved Graham Scutt and a student during my first tour as a flying instructor at the Basic Flying Training School, Point Cook. There was an element within the RAAF advocating turn-back manoeuvres should an engine fail shortly after takeoff. Personally I was against the exercise; pointing out that we were killing more pilots practicing the turn-back than we saved in emergencies and that pilots had landed straight ahead ever since Louis Bleriot ditched during mankind's first attempt to fly across the English channel. Unfortunately the voice of a 'sprog' instructor, and a mere flying officer at that, was drowned in the enthusiasm for something perceived as a life saver: so Graham went on to an early grave. Sadly he actually survived the smash; the crash crew could see him making a dazed and uncoordinated effort to escape the cockpit however the rescuers were unaware of the procedure to open the heavy canopy and the fire spread before the pilots could be freed. Equally sadly the Senior Air Traffic Controller, 'Spec' Taylor, who tried to assist the crash crew, took the affair to a guilt ridden grave; an absolutely unnecessary responsibly after a brave but futile attempt to save the crew.
Graham had been elevated to a peak of glory after a heroic attempt to shoot down the first Sputnik which was launched into orbit during the Cold War. While an awed gathering of NCOs peered at the Russian wonder beeping and soaring above the RAAF Richmond Sergeant's Mess, Graham took a more positive attitude to the intruder and fired a muzzle loading blunderbuss at it. Not only did he fire the gun, he woke everybody sleeping in his immediate vicinity and alerted the Orderly Officer that something was awry on the Base; the great man quickly appeared on his bicycle to be confronted by assorted NCOs either slinking into the night or assuming disinterest in the whole affair, while Graham attempted an air of innocence despite a dusting of carbon on his face and shirt and smoke wisping from the barrel of the antique weapon. As history has it he failed to hit the satellite; somebody said that he did not allow enough deflection.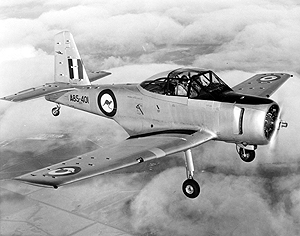 Unfortunately the Winjeel turn-back was not the only fatal at that time. Two trainee instructors were killed during an actual turn-back in a Vampire 35 (a two seat variant) at the Central Flying School, East Sale, Victoria. Although the pilots had shut down the engine, engineers could not find any evidence of a failure and it was assumed that they mistook condensation from the air-conditioning system for smoke. The aircraft hit the ground short of the aerodrome boundary and broke up when it struck a ditch. Air-conditioning mist was a characteristic of Vampire 35s; in fact I often saw the same harmless phenomena pouring from the vents on Boeing and British Aerospace airliners in a later life. The sad thing about that fatal was the futility of it all: the engine was fully serviceable and operable the whole time. Mind you I had seen the result of an engine fire in a Vampire at Williamtown. The fire had almost completely burnt through the left tail boom; fortunately the pilots declared an emergency and just made it back to the airfield in time: there were no ejection seats in those early jets.
Advanced training at Point Cook was a far more serious business than Uranquinty. With its proximity to RAAF Support Command in Melbourne; with its history and tradition it was mired in dignity and old world charm. The buildings were pre-war brick structures, the hangars on the southern tarmac (by the shore of Port Phillip Bay) bore scars of accidents dating back to the early '20s and the messes, particularly the Officer's Mess, were steeped in protocol. The First Half Flight formed there ready for its departure for Mesopotamia during World War One; pilots were taught to fly wood and rag aeroplanes that were wonders of man's determination to kill himself while the roads were lined with picturesque pine trees poised to snare any pilot who might have escaped the frequent engine and structural failures so common at the time. Readers would be justified in seeing all this as a wistful memory and they would be correct. 'The Point', as it was known, holds so many memories for those of us who served there.
Perhaps weapons training was the unique feature of advanced training; not that this is dismissive of pure flying aspects however dive bombing, air-to-air cine and gunnery were far more adventurous than instrument, formation or night cross-country tasks. Weapons exercises are the stuff that combat pilots are made of and all of us, with the exception of two, wanted our Airforce wings. Predictably 'the two' were looking to use the RAAF as a stepping stone to airline careers and as graduation drew near they proceeded to fail their various flight checks. The ploy was about as subtle as a blunt axe and service administrators quickly became aware of the situation; the trainees were suspended from training and, to their horror, offered a choice of menial non-flying appointments. It did not take long for the lads to have a change of heart and they soon started passing their tests once again. Very few people associated with number 23 Pilots course had much by way of sympathy for them.