The Victorian Bush Fires. – Rick Toholka

Rick was right in the middle of those recent terrible fires, here is his account of those terrifying moments.
By some miracle, my property survived the firestorm on Saturday evening (Feb 7). At one stage the fire was racing towards my western and southern boundaries when three events occurred almost simultaneously:
1. Four CFA fire trucks arrived,
2. Elvis unleashed 9,000 litres of H2O, and,
3. We experienced a sudden wind change which turned the fire front back on itself.
I attended the CFA briefing in the Jindivick Community Hall on the Friday night and, along with my neighbours, agreed that we would stay and defend our properties. Well that didn't eventuate as we (sensibly) reassessed the conditions on Saturday. One next door neighbour did chose to stay however, hence the detailed account of what actually occurred. He admitted to being frightened and traumatized by the experience.
I was allowed to return to my property on Sunday at noon and the random but complete destruction from the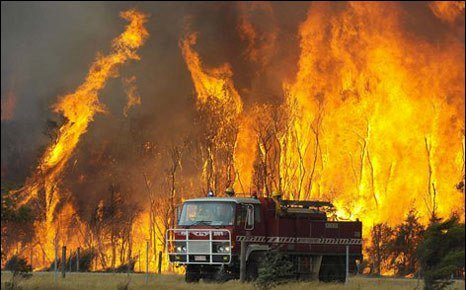 Princes Freeway at Longwarry, Robin Hood, Drouin West, and Glen Cromie Caravan Park and north to my property was devastating and eerie. My house roof was covered in ash and the whole property was saturated in embers of burnt leaf and bark. Why these embers failed to ignite I will never know.
But that was not the end of it as another wind change on Monday, about noon, saw the fire just south of Neerim South (5kms north of my property) break control lines and the Police and CFA advised us to activate our fire plans. I evacuated again. Nothing eventuated but the amount of forest fuel to my north remains a concern. Last night at 7.00pm we were put on notice again but I chose to stay and nothing eventuated.
This last week has been one emotional roller coaster but given the huge tragedy and loss of life one almost feels ashamed to recount one's own story. I am helping some of my neighbours to repair fencing. I am OK.
Just tuning in to ABC I find that Jindivick residents are again on notice from controlled burning in the Neerim South area. I will be glad when we get some soaking rains.
Our thoughts and best wishes are with you Rick – and we are thankful that you got through that terrifying time unscathed – tb