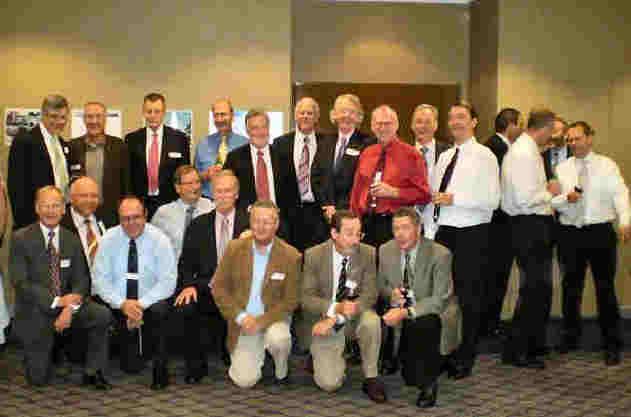 Late in November, 2007, the blokes off 12 and 13 Diploma Courses, who passed out from Frognall early
in the 70's, had a reunion. Here are some of the troops that attended.
The Djinning Association
The Djinnang Association is an association for ex RAAF communicators but also has a number of Radtechs

and Telstechs as members, plus a few people who served a significant amount of time on a telecomm facility, as honorary members.
Mick Lawson tells us that they are having their annual reunion at the Public Service Club, 84 William St, in Brisbane on Sat 31st May 2008. Kick off time is 2.00pm. If you would like to go, you can register your interest HERE and you can also see who has already decided to attend. The Association has its own website and you can access it at http://www.djinnang.com.
And Neil Hunter tells us the Victorian Telstechs mob are planning a get together for Techs and Operators and others who have an association, to be held on Saturday 3 May 2008, at the Laverton Sergeants' Mess, commencing at 1400 (That's pilot talk for 2 o'clock in the afternoon). Dinner will be provided and the projected cost is $25.00 per person, buy your own drinks. Wives, partners etc are most welcome. If you would like to go, please email Neil on neilh1808@optusnet.com.au so they have some idea of numbers for catering. More info on the Telstechs website www.raaftelstechs.au.com.
We asked Mick Lawson where the name "Djinnang" came from, he says "The official meaning of Djinnang is 'To seek and find'. It was taken from the aboriginal tribes around Pearce WA and used by the 3 Telu guys for their unit in Hong Kong".
So now you know!!