Home Theatre
If you're contemplating setting up a "Home Theatre," your first major decision will be whether to use a Plasma/LCD or rear projection TV or to go for a Projector. Consumer-priced portable projectors generally use one of two display technologies, DLP or LCD. Both have their pros and cons, but both technologies have been tweaked and twirled and improved until there really aren't significant differences between them. DLP projectors tend to be smaller while LCDs tend to have a brighter output and be more light-efficient. The LCD projector bulbs don't burn out as quickly, (both type of bulbs are expensive). On the other hand, DLP projectors, which use a spinning colour wheel to produce images, may suffer from a rainbow effect, a trail of colours that disappears in an instant. LCD projectors lag behind DLPs in terms of contrast, and some cheaper models may suffer from visible pixilation.
The Technical Differences between LCD and DLP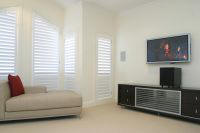 LCD (liquid crystal display) projectors usually contain three separate LCD glass panels, one each for the red, green, and blue components of the video signal being fed into the projector. As light passes through the LCD panels, individual pixels ("picture elements") can be opened to allow light to pass or closed to block the light, as if each little pixel were fitted with a Venetian blind. This activity modulates the light and produces the image that is projected onto the screen.
DLP ("Digital Light Processing") is a proprietary technology developed by Texas Instruments. It works quite differently than LCD. Instead of having glass panels through which light is passed, the DLP chip is a reflective surface made up of thousands of tiny mirrors. Each mirror represents a single pixel.
In a DLP projector, light from the projector's lamp is directed onto the surface of the DLP chip. The mirrors wobble back and forth, directing light either into the lens path to turn the pixel on, or away from the lens path to turn it off.
In very expensive DLP projectors, there are three separate DLP chips, one each for the red, green, and blue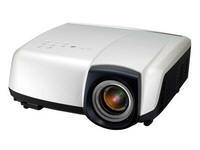 channels. However, in most DLP projectors under $20,000 there is only one chip. In order to define colour, there is a colour wheel that consists of red, green, blue, and sometimes white (clear) filters. This wheel spins in the light path between the lamp and the DLP chip and alternates the colour of the light hitting the chip from red to green to blue. The mirrors tilt away from or into the lens path based upon how much of each colour is required for each pixel at any given moment in time. This activity modulates the light and produces the image that is projected onto the screen. (In addition to red, green, blue, and white segments, some colour wheels now use dark green or yellow segments as well.)
Another area where these two technologies have differed is in image sharpness with data applications. LCD can usually deliver a slightly sharper image than DLP at any given resolution. The difference between the two is noticeable in the display of material like detailed financial spreadsheets. However, there is no visible difference in sharpness with video. This is not to say that DLP will project a fuzzy spreadsheet--it doesn't. When you look at a spreadsheet projected by a DLP projector it looks sharp enough. It's just that when a DLP unit is placed side-by-side with an LCD of the same resolution, the LCD typically looks a bit sharper in comparison.
A third traditional advantage of LCD is that it is more light-efficient. LCD projectors usually produce significantly higher ANSI lumen outputs than do DLPs with the same wattage lamp. Thus LCD products dominate the bright end of the performance range.
LCD projectors have historically had three weaknesses, all of which are more relevant to video than they are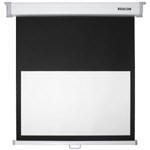 to data applications. The first is visible pixelation--the ability to see the discrete pixels on the screen. The second is commonly referred to as the "screendoor effect" because it looks like you are viewing the image through a screendoor. The screendoor effect is caused by the space between the pixels, known as the inter-pixel gap. The third weakness is not-so-impressive black levels and contrast, which are vitally important elements in a good video image. LCD technology has in the past had a hard time being taken seriously among some home theatre enthusiasts (understandably) because of these flaws in the image.
However, in most of today's LCD projectors these problems aren't nearly what they used to be. The inter-pixel gaps on LCD panels have been reduced and physical resolution--the number of pixels on the screen--has been increased. In the early days of the digital projector industry resolutions were low, generally at VGA (640x480) or lower. The industry then stepped up to SVGA (800x600), and then to XGA resolution (1,024x768) and higher. Many of today's widescreen format projectors use either 1280x720 or 1366x768 resolution displays). With each step up in the number of pixels that produce the image, visible pixelation and the screendoor effect have been reduced. At the new pixel densities, visible pixelation is usually eliminated at normal viewing distances.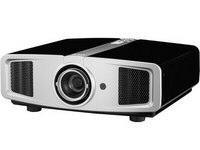 Second, the inter-pixel gaps on all LCD machines, no matter what resolution, have been reduced compared to what they use to be. So even today's inexpensive SVGA low-resolution LCD projectors have less screendoor effect than did earlier models.
Since DLP technology creates a pixel by reflecting light from a tiny mirror, its edge definition is softer and less well-defined than LCD (this is what accounts for the slightly softer image in detailed spreadsheet presentation, but also DLP's traditionally smoother image in video). So for the most part, at any given resolution, DLP still holds an advantage over LCD in visible pixelation. However due to the recent advances in LCD technology you need to stand closer to the screen to see the differences than you used to.
Now when it comes to contrast, LCD still lags behind DLP by a considerable margin. But both have made significant strides forward. Just three years ago typical LCD projectors were rated at 400:1 contrast or lower while comparable DLP models were at 600:1 or 800:1. But major improvements in both technologies have boosted contrast ratings to amazing new levels. Many commercial DLP projectors are rated at 2000:1 these days, and models built specifically for home theatre carry ratings of up to 5000:1.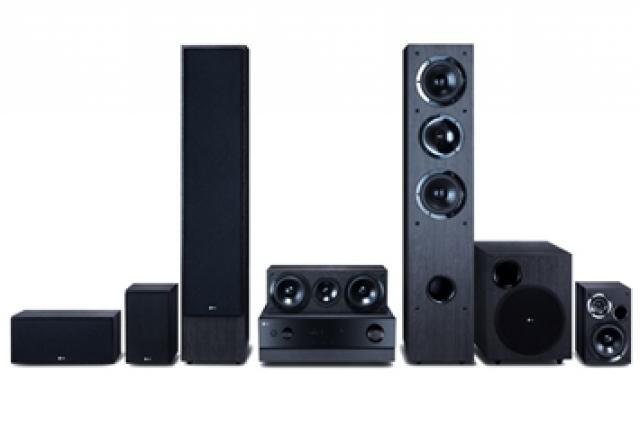 The addition of dynamic aperture control appears to be boosting effective contrast on LCD projectors to unheard of heights. Sony recently announced the VPL-HS51 with a contrast rating of 6000:1, and the Panasonic AE700 is 2000:1. With contrast performance in this ballpark, LCD has essentially closed the gap with DLP on this important performance feature. Any projector with a rating of 2000:1 or greater is capable of producing a sparkling image with excellent shadow detail. So once again, the performance differences between LCD and DLP in this regard are not as significant as they used to be.
Finally, one of the key advantages of DLP over LCD is small package size, a feature most relevant in the mobile presenter market. Since the DLP light engine consists of a single chip rather than three LCD panels, DLP projectors tend to be more compact. There are over 50 projectors currently on the market weighing 2 kg or less, and only three of them are LCD; the rest are all DLP products. Most LCD projectors are 2-3 kg and up.