Peter McAndrew got in touch, he told us that Les Hubbard had passed away on 27Mar08. Peter served with Les in Darwin in the late 70's and early 80's. He was the Sgt Linesman in charge of all the aerial repairs in the North. The Linesmen mainly maintained the Aerials at the 11 Mile HF Transmitter Station and Lee Point HF Receiver Station. Les leaves his wife Liz.
Jack O'Malley got in touch, He said most guys would remember "Big Jock" the Commonwealth Copper from 3TU. Jack said unfortunately he can't remember Big Jock's surname (we tend to get like that) but he had been living in Busselton, WA for about 15 years and unfortunately he passed away last week (early April).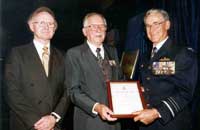 Steve Hartigan advises the sad news of the recent passing of Frank Korbl (SQNLDR Ret, MBE). Frank was with 9SQN in Vung Tau, from April 1970 to April 1971, as the squadron Equipo. He was also a bit unique in that he also served in the German Luftwaffe as wireless operator and rear gunner in WW2. In 2001, Frank received the RAAF Heritage Award for Literature for his book Ex-Luftwaffe MBE. (right: Dr Alan Stephens, Mr Frank Korbl and CAF. AIRMSHL McCormack at the award ceremy) Frank's funeral service was held at the LePine Chapel, Upper Heidleberg Rd, Ivanhoe (Vic) on Thur 17th April. He was 85.
Ron Bellert advises that Gordon Kohler had passed away. Gordon was found deceased in his Gold Coast home on Friday night 18th April, 2008. His funeral was held on 2nd May 2008 at the Sommerville Chapel, Alambie Gardens. Broadbeach-Nerang Road, Nerang (Qld).
Graham (Kiwi) Neal, as a member of the RNZAF, completed an apprenticeship as an Instrument Fitter at Wagga. On his return to NZ, he was commissioned and later transferred to the RAAF and was on the Op Com staff visit team at Glenbrook in the late 1980s. Graham's funeral was held in Christ Church Cathedral, Newcastle on Monday April 28th 2008 It was a full military funeral.
Dave Peters advises that Glen Prior passed away at 2pm on ANZAC Day 2008. Glen's funeral was held at the Great Southern Garden of Remembrance Crematorium, Mount Cotton (Qld) on Friday 2nd May.
Ernie Gimm advises us that:
Russell Smith, Ex RAAF Coms, passed away suddenly on Thursday 22nd May. He lived in Mount Riverview, NSW. Russell's funeral was held on Friday 30th May. No other details were provided

Kevin Lawless passed away on Thursday 22nd May. Cause of death was cancer. Kevin lived in Cairns and his funeral was held at the Cairns Crematorium on Wednesday 28th May.

Ross Hunt was buried in the West last week. He too died from cancer. No other details were provided.
The funeral of Bernard Joseph (Barney) Farrell, ex 9 Sqn sumpie, was held on Wednesday the 28th May at St Mary's Church Bairnsdale, Vic. Barney was a Sergeant with 9 Sqn in Vung Tau from Feb 1969 to December 1969. No further details at hand.
Gp Capt Frank Doherty (Ret), one of the original members of 3TU, passed away earlier this month, aged 89 in Canberra. Unfortunately, he had not enjoyed good health in his last few years. Frank is survived by his wife, eight children and many grandchildren.
Ray Townsend advises us that Greg Currie has passed away after long illness. Greg was an Engine Fitter and served with 2 Squadron at Phan Rang. Ray says he served with Greg in 10 Sqn Townsville and he knows Greg was well known to many 9 and 35 Sqn members. He also served in Malaya. His funeral was conducted at the Tweed Heads Crematorium on Friday 30th May
Steve Hartigan says "It is my sad duty to advise of the death of Charles Buchanan on 29 May in Canberra. Charley was a sparky and served in Malaya with 5SQN and was in Vietnam in 1966-67 with 9SQN where he was awarded a Commendation for Distinguished Service. His funeral was held at the Norwood Park Crematorium, 65 Sanford Street, Mitchell, ACT on Thursday 5 June 2008" He was only 67.