We received the following:-
Hello, My name is Krystal Platt and I am the granddaughter of Gordon Browell. I am trying to find out some information about his years of service firstly with the RAF and then the RAAF. At his death he lived in Granville, Maryborough Qld. I know his birthdate was 27th December but don't know the year of his birth. At his funeral Air Force personnel attended and spoke of his service and mentioned that he had received a medal for his involvement in the invention or development of the black box flight recorder.
If you can help me with any information about grandad I would really appreciate it. And if you could let me know how I would go about finding out more about his service I would be very grateful.
Thank you in advance,
Krystal Platt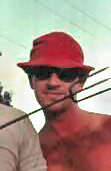 If anyone can help, please get in touch with us and we'll pass the info onto Krystal - tb.
Ted Strugnell is looking for Billy (Goat) Lewis (right). Bill was a real character. He was an elec fitter and was with 38 Sqn with Ted back in 1969-70. Last we heard of Bill, he had dealings with Peter DeJonge in Point Cook some years later. Anyone have any idea where Bill is these days??