Nobby Clark, who lives over in the West, wrote, "I was very interested in the article on Ron Guthrie. I served with Ron on the Air Staff at Williamtown in the 70's. A great bloke and a thorough gentleman."
Kevin Cragg thought he'd share this site with us. It's a neat little site for those who have an interest in Radar. Kevin went thru Radschool on 70 and 72 RTC in 1973-75 and ended up a Groundie. He spent most of his time at Richmond and Williamtown and left the RAAF in 1982. Here's the site. http://www.radartutorial.eu
Alf Smith saw Laurie Lindsay's outburst in our last edition re the 1963 Rugby squad and just had to take exception. Alf reckons Laurie is nothing but a recounter of stupendous whoppers as all he (Alf) did was say to Laurie "Wanna game of rugby mate"? And Laurie, thinking he might get out of a bit of work, of course said "Yes". Anything and everything that happened after that is entirely Laurie's own fault.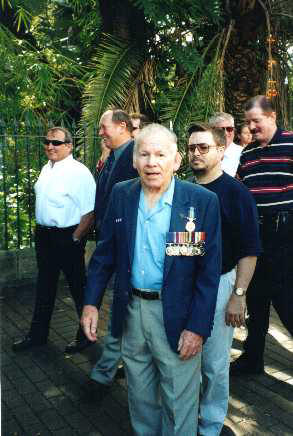 Alf said in their team the coach was the vehicle that took them to the games. He reckons perhaps at training he might have suggested they practice something like restarts or lineouts or things like that, but never in his wildest fantasies (and he reckons he's had a few of those) would he have thought of himself as "THE coach".
Ian Collett says he read Frank Alley's stories with interest as he (Ian) was on the first course Frank taught at Radschool with Ray Tame (right).
Dan Horsfall, who was at Radschool at Laverton from 1968 to 1972 on 28RMT wrote to see if we were still alive and kicking – well, we sure are Dan.
Bob Bergman wrote "Finally I have been awarded a 100% disability pension by DVA due to illness from war service. They would not recognise any damage done by chemicals, eg, Agent Orange, or by radiation of any kind but accepted smoking due stress. The logic escapes me. I had remarkable news that the "incurable" non-small cell carcinoma that I had was 'resolved' by the drug I was trialling but was also advised that there was a new and very active tumour (unknown type) in my upper left lung lobe. (the lower lobe was removed previously) (go to page 8). The surgeon advises that I should survive an operation to remove it and so I am booked in to hospital next Wednesday for an operation on the Thursday. Wish me luck.
I am off in the morning to visit my son and grandsons in Nth Qld for a break and will just be back in time to enter hospital. Please have a thought about making the members aware of potential problems and their entitlements. I could have had this pension for the past 18 months if I had known about it. It is very important that any member with war service investigate his entitlements and have them registered before anything happens. An educational approach would be worthwhile".
PS. I am back on deck, at least partially. I went in to the operating theatre on Thursday 14th sometime just after lunch and there seems to be some differing opinions at the moment on what might have been achieved. Quite possibly nothing. More info later. From there things went wrong and I developed a blood clot somewhere which necessitated emergency surgery to rectify. From then until the following Sunday afternoon I was in the Intensive Care Unit. I remember very little of the ICU and seem to recollect my daughter sometime Saturday. She sat by me a lot of the time there. That did help me a lot. I recovered fairly well resulting in release from hospital this last Wednesday afternoon. Naturally I am far from well but better off in my own den.
Again, I thank you for your help in getting through this trial. It is most assuring knowing of the support out there. I do not have enough information at the moment to know what might happen now but, unfortunately, do not have much that gives hope. I will go on fighting, as I don't know what else to do anyhow, and we will see where that takes me. Again I met some really beautiful people in that hospital. The government could never establish a pay rate that would compensate for their efforts and pure humanity. When my addled old brain rises a little more from the murk I will again say hello. Thank you. Bob Bergman.
Steve Hartigan wrote: "I was wondering if you could help out with some information or be able to give me contact details of someone who may be able to provide details of an incident (below) in Nui Dat in May 1967 please.