The Greyhound – John Elliot
I'm not all that good on names, especially after all this time, but I think the bloke in question in this story was Graham Beckman and I'm not sure if this happened during my 1963-64 training as a Telsop or in 1968 when I was back at Radschool retraining as a Telegraphist, BUT it's a story about a Graham and the greyhound.
Graham decided to take me under his wing and teach me the finer points of greyhound racing.
This damn dog of his could not win a greyhound race if it started first and was the only dog in the race, but Graham had the faith (and the force??), the right books on training and he reckoned he only used scientific

methods that were tried and tested, which I might add included a couple of injections before it went into the starter's box (remember this was the 60's).
I happened to drop by his house one evening to see Graham, but he was not home. His wife and kids where there and although amused when I walked inside, I was not surprised to see the bloody dog (I'd also been encouraged by Graham to bet on the damn thing and seem to remember always loosing), in all its glory sitting by the fire place sharing an ice-cream with the kids.
Wife said that she and the kids felt sorry for the dog on cold nights and liked to bring it inside and give it a treat. I promised to not tell, but I only backed the dog for a place after that, and then only under pressure.
The Scope Iron.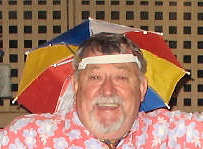 Last issue we had a story on someone who deliberately and maliciously took advantage of a poor little equippo by substituting a dummied up piece of wood, metal and wire and passing it off as a U/S scope iron. The idea behind all this "skull duggery" was the full and premeditated intention of extracting from store a new iron and transformer.
We have since discovered that the scoundrel in question was none other than that dastardly rascal from across the sand - Ted McEvoy.
We hope the Service Police don't get to hear about this as there's sure to be trouble…..
My job at Myer.
After landing my new job as a Myer greeter, a good find for a retiree, I lasted less than a day......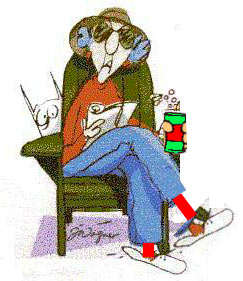 About two hours into my first day on the job a very loud, unattractive, mean-acting woman walked into the store with her two kids, yelling obscenities at them all the way through the entrance.
As I had been instructed, I said pleasantly, 'Good morning Madam and welcome to Myer. Lovely children you have there. Are they twins?' The ugly woman stopped yelling long enough to say, "Hell no, they ain't twins. The oldest one's 9, and the other one's 7. Why the hell would you think they're twins? Are you blind, or just stupid?"
So I replied, "I'm neither blind nor stupid, Ma'am, I just couldn't believe someone slept with you twice. Have a good day and thank you for shopping at Myer."
My supervisor said I probably wasn't cut out for this line of work.