This time we would like to know what you did after you were discharged. Did you continue on with the trade/profession/skill you were taught in the RAAF – or did you go into something completely different. We know a lot that didn't stick with the RAAF training, some radio blokes we know became posties, some firemen, some bought a health food franchise, some went into teaching!! Please tell us what you did and we'll have the results in our next issue.
You can access the survey HERE
Comment.
This magazine is normally non-political, and we would prefer to keep it that way, but the following two topics are scary and have to be debated.
1. Man made global warming.
Why this notion is still being promoted by a majority of the media and by nearly all of the Government is bewildering when all the evidence clearly demonstrates that climate change has been occurring naturally since granny was a young girl. What is this ridiculous "Carbon pollution reduction scheme" that Penny Wong and Peter Garrett are spruiking – do they mean Carbon Dioxide PRS, if so, how is Carbon Dioxide a pollutant when without it there wouldn't be any plant life??
The Government released a white paper in December 2008 that says, in part "As a hot and dry country, we have more to lose than any other developed nation if the world fails to reduce the carbon pollution that causes climate change".
Where is all this carbon coming from?? Carbon Dioxide is not carbon!! To say that, is to say a river is a great big chunk of flowing Hydrogen. We are being fed garbage and I'm fed up with it.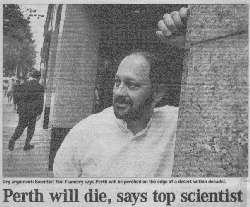 What really annoys me is that for so long so many people have made so much money peddling so much of this man made global warming crap…
Is the planet warming? – NO!,
Is the ice melting at the Poles? – NO!,
Is the sea level rising – YES,
Is it because of man made global warming? – NO!
That opportunist, Tim Flannery, predicted, in 2004, that Perth would be a ghost town in a few years as it would completely run out of water. In 2005 he said that Sydney would be without water by 2007. In March 2007, he again said that Adelaide and Brisbane would be out of water by the end of that year, and he topped all that off by saying that the country was facing a 'catastrophic' situation.

"Even a year ago this would have been unthinkable", he said, "I think it is the most extreme and dangerous situation arising from climate change facing any country in the world today" – and because of all his unquestioned scare mongering, he was made Australian of the Year.

In 2003, that once wonderful and revered organisation, the CSIRO, predicted that Mt Hotham and Mt Buller would lose 25% of their snow by 2020. They added this amazing disclaimer to their report.
"The projections in this report are based on results from computer models that involve simplifications of real physical processes that are not fully understood. Accordingly, no responsibility will be accepted by CSIRO for the accuracy of the projections inferred from this report or for any person's interpretations, conclusions or actions based on this information".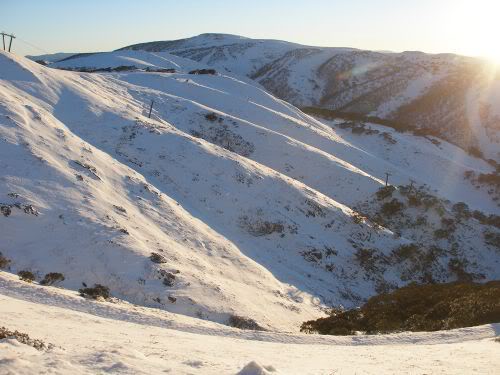 One wonders why they would even release a prediction based on "simplifications of real physical processes" that they didn't understand. Doesn't that just make it a guess??
Last year was a bumper snow year.
And, as for that sooth-sayer Ross Garnaut, a professor of economics, this government has engaged him to advise them on Global Warming, that's like getting a Radtech to run L Group!!!!
What the hell is it all about???????
2. Government Borrowings.

The Prime Minister has advised that the Government is currently committing Australia to a "temporary" debt of $300 billion. Trouble is, all that money has to be repaid by you, me and by the rest of the country.
$300 billion is $300,000 million. The current 10 year Government bond rate is 4.67 per cent. If we look at repaying the loan over a 5, 10, 15 or 20 year period, and paying interest at that rate, it gets scary ... really scary.