The normal flying time between Shep and Wagga was about two hours. On this particular trip we landed in a paddock north of Shepparton to find out where we were; then almost crashed on takeoff when the 'licensed' pilot forgot to turn the fuel on, (fortunately I had talked him into taxying to the end of the field before opening the throttle - the engine stopped just as he did so.) We landed at Corowa to refuel and promptly became lost again before landing at a village named Walla Walla west of Albury to, once again, find out where we were. We spend the night with the farmer and his family before following the road to Wagga the next day. Our arrival back at the school occasioned Eric's remark, "So here you are I was wondering where you had got to."
Fizz's flying was no better than his navigation – later on he almost collided with me during a formation return from barnstorming at the Wagga Wagga Agricultural show. I can still hear the roar of his engine and see his left wheel a foot or so above my top wing as he desperately banked to avoid a collision.
Although I wonder now at the memory of it all, we treated flying in the belief that we were bullet proof and would live forever. We taught ourselves aerobatics of a sort, climbing through holes in the cloud cover to loop and roll in the brilliant blue yonder before spinning down through the overcast into clear air and finding our way home (we had not learnt to fly on instruments and the Tiger only had a rudimentary set anyway). That was until my engine stopped in the middle of a mishandled loop-the-loop one day, an event that was both unwelcome and unplanned. Fortunately I found a hole to dive through while gaining airspeed and waiting for the propeller to windmill in an attempted re-start – a drill that I had heard about, that I had never witnessed but nevertheless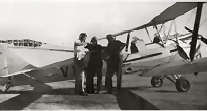 remained my last option before arriving in a the scrub filled paddock below.
Right, Ron, complete with white scarf, Barny Barnfield and (he thinks) Ron Croft
Throughout all this we were gaining experience and confidence – if anything too much confidence - added to that I became addicted to the adrenalin hit from the 'rack hack and zoom' of thrill seeking aviation. Something had to bust; which it did in spades when I hit a tree; nevertheless I achieved something, suddenly I realised I was not immortal. Up until then I had decorated myself with a silk scarf, an item I encouraged to stream back in the slipstream so people would know that the great aviator was flying the machine, an ostentatious gesture copied from the World War One aces despite the risk of strangulation. Thereafter I continued to wear a silk scarf however I did not allow it to trail so freely in the wind.
Letter to the Editor, Air Force News, June 6, 2002.
Aerial Pruning.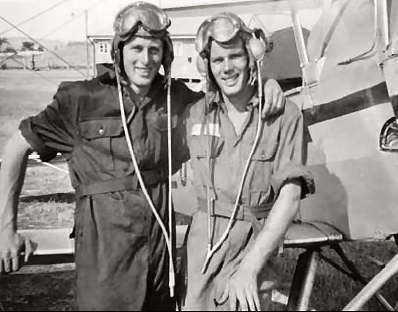 'Your cartoon in the March 28 issue makes me believe that someone has been reading Ron Raymond's log book. Back in our Air Force apprentice days when he, Ron Croft and myself were flying Tiger Moths out of Wagga we pounced Raymond's Tiger over the North Wagga training area. Raymond made straight for the deck, did a tight turn around a gum tree and was confronted by a 60 foot pine tree. Up came the nose too late: he trimmed the pine a bit. On landing at Wagga airfield the undercarriage folded up, breaking the propeller. Raymond claimed a heavy landing. When Eric Condon, the club's chief flying instructor and aircraft owner, opened up the engine cowl out fell a sizeable bit of pine tree. Being apprentices we had little money to pay for repairs. Instead Eric made us re-dope and paint his whole Tiger fleet, extracting about 300 maintenance hours out of us. Good experience and good memories, but I didn't know we still use aircraft to lop trees!'
Above - Bob Kee and Ron.
R.A.Kee AO
AIRCDRE (Retired)
All of which is how Bob Kee, an apprentice colleague, remembered one of our teenage escapades some 55 years or so after the event. Of course after so long he may be excused for a lapse of memory while, for my part, I still have enough pride to correct the description of the event: first we did not 'pounce' on stray aeroplanes – we 'bounced' them; second, I would not and did not make 'straight for the deck.' although we knew little about air combat at the time, I certainly would not have handed such a massive tactical advantage to the aggressors – I would have held my height, opened the throttle as wide as I dared without wrecking the engine and turned into the bounce with the stick hard back in a maximum rate turn to out-manoeuvre my tormentors. I certainly knew enough to bank as tightly as possible in an effort to outturn an opponent during a turning dogfight; to keep my speed up and never reverse the turn. I was never concerned about two versus one if I was alone - two aggressors only got in each other's way while I only had myself to worry about. In the best tradition of the Wright Brothers Flyer, biplanes were outstanding in their ability to lose speed and altitude when pressed (just remember to climb, cruise, glide and crash at 65 miles per hour old chap) and the only way to maintain airspeed in a dogfight involved controlled sacrifice of height.
Be that as it may, I eventually finished up in the weeds although it was not in that particular mock combat; I was
simply low flying, seeing how close I could fly to the trees without hitting them, an event I inevitably celebrated by colliding with a ghost gum and shearing the bolt securing the radius rod to my left wheel strut. Without this bolt the left wheel obediently folded back under the Tiger when I landed in a paddock to check 'if I had busted anything.' Fortunately the machine didn't catch fire – something attributable to the lack of significant damage and the fact that it was still right way up. Bob is correct when he describes the agriculture falling out of my cowl and how my apprentice friends rose to the occasion and helped work off most of the consequent debt at five shillings an hour. As the man said, it was good lesson; although it failed to quell my lust for the occasional unrehearsed beat-up.
Anyway what else would a frustrated adolescent have done for kicks? Didn't everybody aim their aeroplane straight at a stand of gum trees and leave it until the very last moment to pull up? While I can only speak for myself, and while it might sound a touch suicidal, I had often done that in anticipation of coming out the other side undamaged. Here in the early 21st century they speak of youth and its propensity for risk taking; of under development of the frontal lobe, an area of the brain governing caution and conservatism; in retrospect I guess it was also the case during our young lives at the Wagga Flying School. We were just eighteen and adventurous to a fault. Coupled with that we were inexperienced, virtually unsupervised and we still had a lot to learn about flying – a dangerous cocktail at best.
Of course nothing lasts forever and granddad's largesse was finally exhausted, fortunately after I qualified for my civilian pilot licence. The question of continued support for my flying led to formation of an RAAF apprentice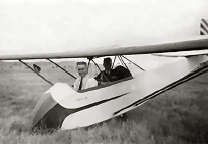 gliding club, something the service seized on in the mistaken belief that if it was not an appropriate interest for budding airmen it would at least keep some of them out of mischief; at least stop them trying to shoot out the security light on the ammunition store across a railway line from our quarters or steal a railway 'jigger' and head for Wagga via the same railway line that ran through the Base. We duly started construction of a Heath Robinson affair called a Dixon Primary Glider. I eventually flew the thing but not at Wagga and even that provided a measure of excitement when an aileron bracket failed and the pilot lost control as the glider rolled over and crashed upside down in a railway culvert – its nose skid on one side of the train track, its tail on the other and the pilot hanging uninjured in his seat strap.
Flt Lts Gooch and Talberg ready to test
fly the Merlin 2 at Uranquinty.
In the event the club had an offer that we could not refuse, especially as the Airforce financed the purchase of a broken two seat glider in desperate need of repair. It answered to the name 'Merlin' and seeing that it required a fuselage rebuild and was alleged to have a broken wing spar, we added '2' in tribute to its resurrection: The Merlin2.
There was only one impediment to the Blue Triangle Gliding Club's (as we called ourselves) aspirations; namely a limited repertoire of glider lore, nevertheless where we lacked information and suitable hardware, we compensated with enthusiasm. A Mustang bomb release was fitted as an alternative to an approved tow release; a weird looking spring loaded plate on the wing strut served as an airspeed indicator (a Rattrap Airspeed Indicator was the term of the day) in lieu of a proper glider wheel, a wheel barrow wheel was substituted, two aluminium crew seats from a Beaufort bomber were fitted in the cockpit and, as we did not have any of the circular rubber shock mounts for a skid, we did without them entirely. The actual rebuild of the aeroplane was under the supervision of a wise old Flight Sergeant who insisted on an immaculate finish, a result we achieved: the glider even smelt right.
Unfortunately neither the wise old Flight Sergeant nor anybody else in the apprentice system knew anything about launching recreational gliders and the RAAF could only provide an underpowered truck of sorts called a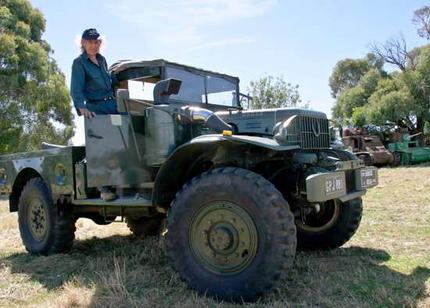 weapons carrier as a tow vehicle. With a little help, the weapons carrier produced acceleration such that the Merlin wallowed behind barely under control let alone airborne. Occasionally the glider did lift-off and after gaining the few knots that made all the difference, control was achieved and the Merlin 2 climbed away in all its glory; unfortunately by that time the truck had usually run out of aerodrome and the climb was limited to about 800 ft; enough to fly a circuit and land again, certainly not enough to 'catch a thermal'.
Apprentices never gained much benefit from their creation apart from an occasional ride while the Basic Flying School instructors at Uranquinty tried to come to grips with the thing. Nevertheless we continued our efforts to launch the glider with some degree of dignity and consistency, a process that eventually involved wing runners on each wingtip and two runners guiding the tail in an effort to keep it tracking straight; a scene vaguely resembling something out of a Ben Hur epic. Despite our best efforts however, insufficient control authority and inferior weapon carrier acceleration finally combined to place the machine airborne in an uncontrollable wing-over before crashing back to earth with a fearful thump, minimal injury to the crew and complete destruction of the glider. In reality the only injury involved a cut finger belonging to the instructor (Blue Sweeney - a Korean War veteran who was subsequently killed in a Sabre ejection at Williamtown).